This review is in Danish, as I read the book in Danish – I'll be back with a post in English very soon!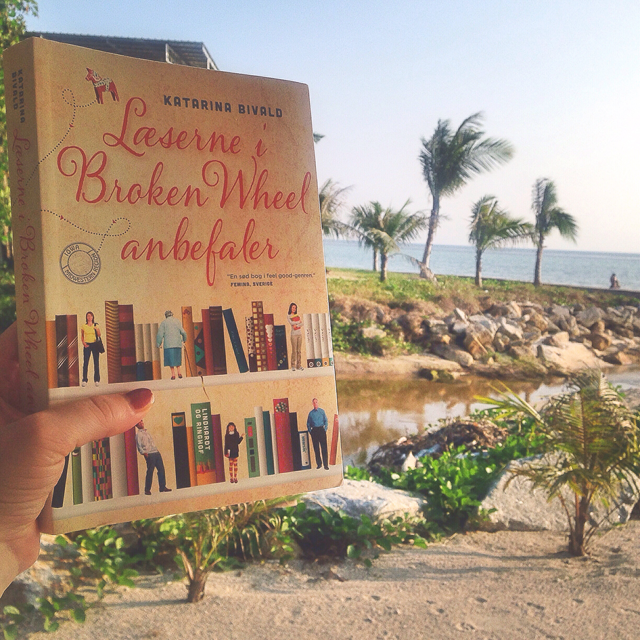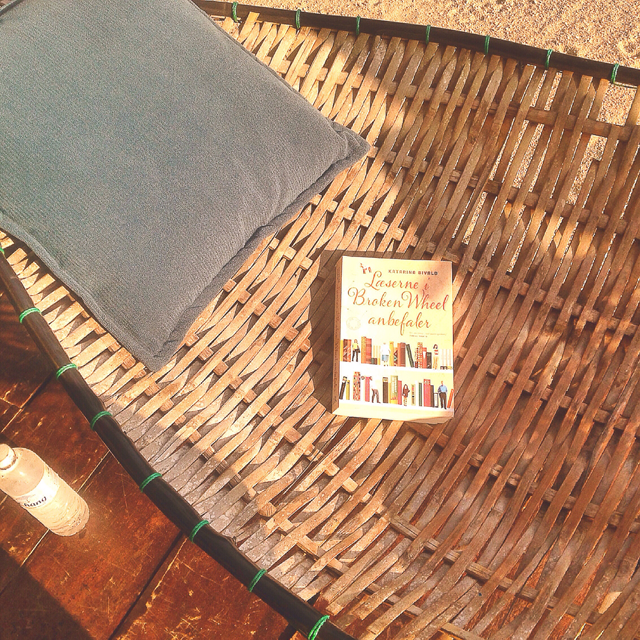 Titel: Læserne i Broken Wheel Anbefaler
Forfatter: Katarina Bivald
Udgivelsesår: 2013
Min bedømmelse: 2 ud af 5 stjerner
Anmeldereksemplar
Sara er taget til en lille flække i USA for at besøge sin penneveninde, den bogelskende 75-årige Amy. Da hun når frem er Amy død, men byen tager imod hende, og Amy beslutter sig for at slå sig ned, åbne en bogbutik i Amys ånd og dermed omvende flækkens beboere til læsere.
Som en ægte bogorm er jeg altid frisk på en bog, der hylder bøger. Det er altid rart at læse om nogen, der deler ens lidenskab. Og kærligheden til bøger nærmest driver ned ad siderne i Broken Wheel. Det er faktisk lidt for meget. Det kom for mig til at virke en anelse påtaget, som et billigt trick for at få nogle bogorme på gaflen. Især fordi der ikke skrives noget nyt om kærligheden til bøger. Det er udelukkende klichéer vi har læst utallige gange før – i andre bøger om bøger og rundt omkring på diverse bogblogs. Det er den samme suppedas vi får tværet ud i hovedet endnu en gang.
Der var noget nærmest fornærmende ved en kvinde, som så åbenlyst foretrak bøger frem for andre mennesker.
Så er der selve historien, der skal binde bogelskeriet sammen. Katarina Bivald er tydeligvis en belæst dame. Derfor er det mig uforståeligt, at hun ikke har taget mere ved lære af de bøger hun har læst. Når man kender til historier af Steinbeck og Austen, hvordan kan man så skrive sådan en tynd kop te some denne? Jeg er med på, at bogen er ment som let feel-good hygge-læsning. Og den er i den grad let. Men den er også intetsigende og den første halvdel var decideret kedelig. Persongalleriet er ikke noget at skrive hjem om (bortset fra en enkelt bifigur – en kristen kvinde, der indleder en affære med en ung, biseksuel mand), og jeg brød mig absolut ikke om hovedpersonen. Åh, hvor er jeg træt af at læse om små grå bogorme, der gemmer sig bag bøger, blot for at opdage, at der er mere i livet, da de møder en muskuløs mand.
Bøgerne havde været en beskyttende mur, ja, men ikke kun det. De havde skærmet hende fra omverdenen, men også forvandlet omverdenen til en slags sløret kulisse for de virkelige eventyr i hendes liv.
Og nu til det utilgivelige: En lang række af de bøger, der nævnes får afsløret deres slutning. Uden advarsel! Utilgiveligt …