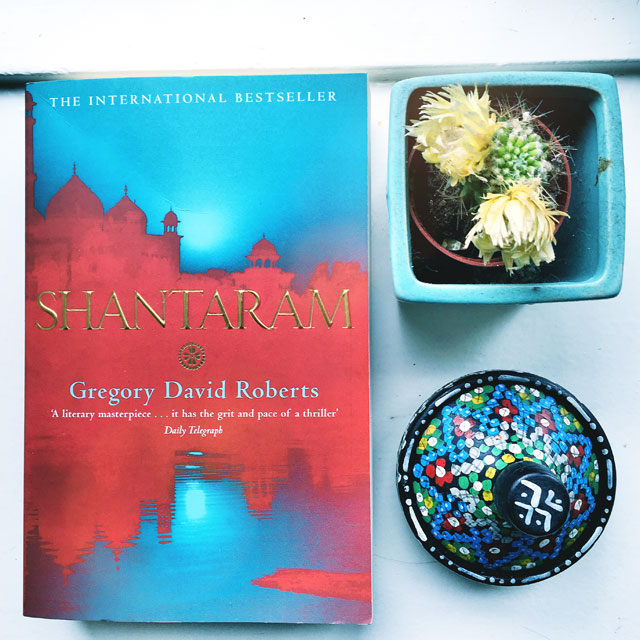 Titel: Shantaram
Forfatter: Gregory David Roberts
Først udgivet: 2003
Jeg vil anbefale bogen til: Dig, der kan lide filosofiske og eksotiske bøger
2 af 5 stjerner
Lin er stukket af fra fængslet i Australien og er flygtet til Indien. Her følger vi hans oplevelser som turist med kulturchok, autodidakt læge i slummen, torturoffer i fængsel, forbryder hos mafiaen. Vi følger de venskaber han knytter og hans store forelskelse i en uopnåelig og mystisk kvinde. 'Shantaram' er en bog, der er elsket af mange, men som jeg ikke kunne elske. Selvom jeg virkelig prøvede.
Så hvad er mit problem? Til at starte med kunne jeg ikke snuppe vores hovedperson. Han var en selvfed, halv-dum, stereotyp uden situationsfornemmelse. Jeg havde flere gange lyst til at smække ham én og sige 'hold nu op med det dér!'. Fx da han endelig får hevet ud af kvinden han er forelsket i, at hendes tidligere elsker er død. En normal empatisk person ville måske sige 'det er jeg ked af, det må have været svært for dig'. Lin derimod brager videre og siger 'Nå, hvad døde han så af?'.
Historien var meget klichefuld. Som i 'hvid mand opdager hvor spændende og anderledes Indien er'-kliché – hvilket man kan sige er hovedplottet i Shantaram. Den første del bragte konstant Lin i situationer, hvor han skulle chokeres over forskellelene. Og det var som om han ikke rigtig lærte noget. Fx bliver han ved med at tale i metaforer så han konstant blev misforstået. Et menneske med normal intelligens ville måske overveje at holde op med at bruge de vestlige metaforer. Især efter udtrykket 'bear hug' bliver taget bogstaveligt, og en rigtig bjørn bliver fremtryllet som han bliver nødt til at give et knus.
Hele romanen bliver spundet sammen af små filosofiske fraser der piblede frem gennem hele fortællingen. Jeg tror, at det er meningen, at vi skal blive imponerede af dem; små floskler som skulle lyde fine og dybe, men som for det meste var noget værre vås. Fx den her:
A dream is the place where a wish and a fear meet. When the wish and the fear are exactly the same, he said, we call the dream a nightmare.
Er det bare mig, eller er det en gang vrøvl? Hvis jeg har et mareridt, hvor en øksemorder er efter mig, så har det da intet med et ønske at gøre – kun frygt.
Men det var ikke kun små fraser, det var også lange 'dybe' filosofiske samtaler imellem Lin og de mænd han møder. Igen var det vel meningen, at vi skal imponeres og tænke 'hvor er det dog spændende og dybsindigt'. Mest lød det dog som en flok 2.g'ere på filosofilejr.
Her er det værste citat:
I was thinking of another river. A river that runs through all of us. The river of the heart.
Behøver jeg sige mere?
---
In English
Lin has escaped from prison in Australia and fled to India. Here we follow him as a tourist with culture shock, a self-taught doctor in the slums, a tortured prisoner, and a member of the Mafia. We follow his friendships and his great love for an unattainable and mysterious woman. 'Shantaram' is a book that is loved by many, but no matter how hard I tried, I couldn't love it … read more.