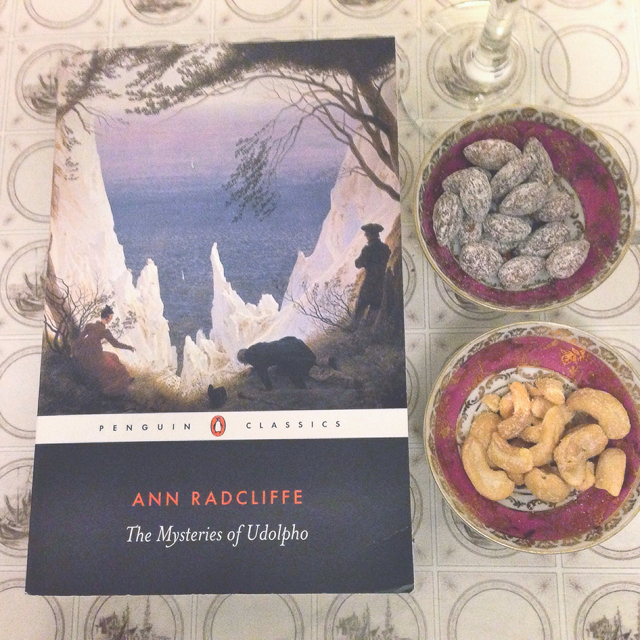 Title: The Mysteries of Udolpho
Author: Ann Radcliffe
First Published: 1794
My Rating: 2 of 5 stars (average rating on Goodreads: 3.36)
I would recommend this book to: Jane Austen fans and anyone interested in Gothic literature. But if you're allergic to sentimental and melancholic novels, then run as hell!
The Beginning: On the pleasant banks of the Garonne, in the province of Gascony, stood, in the year 1584, the chateau of Monsieur St. Aubert.
If it weren't for Jane Austen, I would never have dived into The Mysteries of Udolpho. But after reading about some of my favorite heroines being nearly frightened to death by reading this book, I had to see what it was all about.
I was more annoyed than frightened, however. Emily annoyed me almost from the very beginning. She's such a goody-two shoes, I wanted to slap her. Or at least roll my eyes so hard that … my lashes struck her … or something. Radcliffe goes out of the way to make us sympathize with Emily. Example: Near the beginning when her father announces that they've lost all their money, Emily merely reminds him that they still have their good health and is not a bit sorry. Saint Emily shows absolutely no annoyance or regret that their financial security is gone. Because apparently only bad people care about money, and it's very important that we like Emily and wish her all the best when we have to read about her struggles for 600 pages.
And that's another thing: this novel is too damned long and I don't have the patience for it. It could have been merely 300-400 pages. It should be easy – just delete all Emily's weeping and fainting, and you have a much shorter and more tolerable novel.
A well-informed mind is the best security against the contagion of folly and vice. The vacant mind is ever on the watch for relief, and ready to plunge into error, to escape from the languor of idleness. Store it with ideas, teach it the pleasure of thinking; and the temptations of the world without, will be counteracted by the gratifications derived from the world within.
I read this one as a group read on Goodreads, and someone posted this brilliant link from The Guardian in the discussion thread: A graphic overview of how to tell you're reading a Gothic novel. One of the clues is that the heroine faints a lot, and our Emily comes out the winner with 10 swoons! Click the pic below to see the article – it's quite fun!