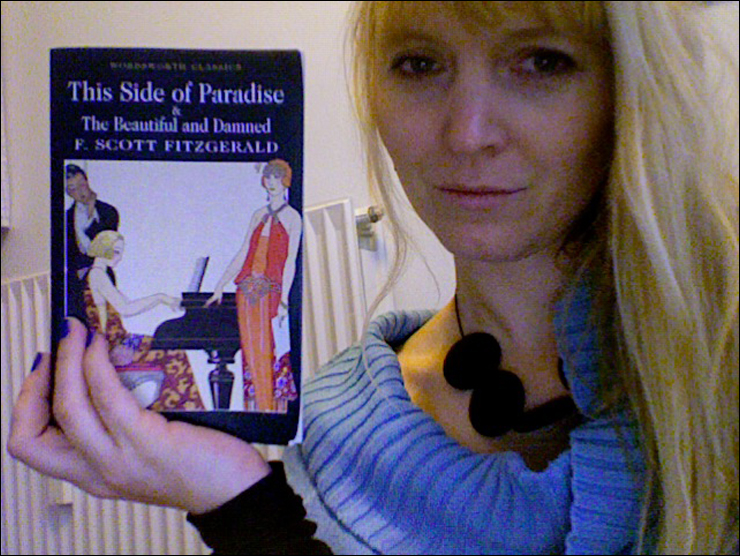 This Side of Paradise by F. Scott Fitzgerald
Karakter: 2 af 5 stars
Første sætning: Amory Blaine inherited from his mother every trait, except the stray inexpressible few, that made him worth while.
Antal sider: 220
Jeg kunne med det samme se, at det her ville blive en alternativ Fitzgerald-roman. Det er hans debut og jeg tror jeg har læst et sted, at den skulle være delvist selvbiografisk. Mine forventninger var høje og jeg blev meget skuffet.
Vi følger Amory Blaine fra barndommen til han er i 20'erne: hans liv fra de tidlige skoleår til han går på Princeton. Barndomsbeskrivelserne var meget morsomme og jeg tænkte "Denne her kommer jeg til at kunne lide". Men det blev bare for meget. Amory var SÅ irriterende, og da han startede på sit små-filosofiske vrøvleri begyndte han at kede mig.
Jeg kunne godt lide den del med Rosalind (en ung pige Amory forelsker sig i og som bliver forelsket i ham, men vrager ham til fordel for en rig mand). Jeg synes hun var en interessant karakter – og jeg var helt vild med, at det kapitel hun blev introduceret i er skrevet i dramatisk dialog som var det et skuespil. Jeg er ikke sikker på, hvad det skulle betyde, men jeg bød forandringen velkommen, da det gav mig mulighed for selv at forestille mig, hvad der foregik i karakterenes sind istedet for at få det fortalt. Men tilbage til Rosalind: Med risiko for at lyde som en din gamle folkeskolelærer, kunne hun være et tidligt studie af Daisy (The Great Gatsby). De er begge selvoptagede, egoistiske og forkælede, de vælger begge penge og status fremfor kærlighed og de har begge blomster-navne. Jeg ville ønske, at bogen havde handlet om Rosalind i stedet for Amory.
Fordi selvom der var dele af bogen der var interesante, underholdende og velskrevet og faktisk føltes som en 4-stjernet bog, var det meste af bogen simpelthen så kedelig at det føltes som om den ingen ende ville tage. Og det var kun pga. Fitzgeralds navn at jeg læste den færdig.
Jeg ville ønske jeg kunne lave Dress for the Book til denne bog, men jeg har desværre ikke noget 20'er-inspireret tøj. Det må jeg skaffe!

Rating: 2 of 5 stars
First sentence: Amory Blaine inherited from his mother every trait, except the stray inexpressible few, that made him worth while.
Pages: 220
I could see from the very beginning that this was going to be an alternative Fitzgerald novel. It's his debut and I think I've read somewhere that it should be somewhat autobiographical. My expectations were high, and I was very disappointed.
We follow Amory Blaine from childhood until he's in his 20s: his life at prep school and at Princeton. The childhood descriptions were very amusing and I thought "I'm gonna like this". But it was just too much. Amory was so annoying and once he started all his philosophical ramblings I became bored with him.
I liked the part with Rosalind (a young girl that Amory falls in love with and who falls in love with him, but leaves him for a rich man). I thought she was a very interesting character – and I loved how that first chapter with her is written in dramatic dialogue form like a play! I'm not sure what it means, but I welcomed the change, and it allowed me to think for myself and imagine what was going on in the characters' minds rather than being told – and we were told a lot throughout the novel! But back to Rosalind: At the risk of sounding like your old teacher, could she be an early study of Daisy? (The Great Gatsby). They're both self-centred, selfish and spoiled, they both choose money and status over love and they both have flower names. I wish the book had been about her and not Amory.
Because, although there were parts in the book that were interesting, entertaining and well-written and felt like a 4-star read, most of the book was just so boring that I thought it would never end. And it was only because of Fitzgerald's name that I finished it.
I wish I could make a Dress for the Book for this book, but unfortunately I don't have any 20s inspired clothes. I have to get some!

Follow me: Bloglovin * Facebook * Pinterest * Lookbook * Goodreads