A pretty sight, a lady with a book.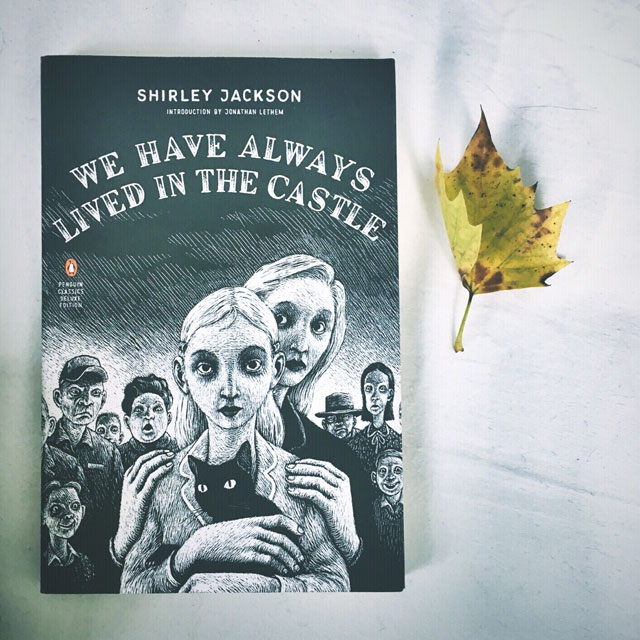 Titel: We Have Always Lived in the Castle
Forfatter: Shirley Jackson
Først udgivet: 1962
Antal sider: 146
Sådan starter den: My name is Mary Katherine Blackwood.
5 af 5 stjerner
En dyster og stemningsfuld lille perle – fænomenal oktoberlæsning!
We Have Always Lived in the Castle (WHALITC) er stemningsfuld fra første side. Vi lægger ud med Mary Katherine, der er taget ned til den nærliggende landsby for at købe ind. En simpel handling, der kræver stor overvindelse for hende. Hele byen stivner ved hendes ankomst. Al samtale stopper og folk stirrer på hende som var hun et spøgelse. Langsomt bevæger hun sig gennem byen, der skiftevis chikanerer og ekskluderer hende. Hun vender hjem til sin elskede søster, Constance, som ikke tør forlade deres hjem, og deres onkel Julian, der kører i ring om den samme aften for flere år siden. Den aften, hvor det skete. Den aften, hvor resten af familien døde af forgiftning. Her lever de helt ekskluderet for omverdenen. Men så en dag …
I'm going to put death in all their food and watch them die.
WHALITC var en fænomenal læseoplevelse. Handlingen og dialogen stod knivskarpt som en velinstrueret film for mit indre øje. Jeg elskede persongalleriet og nød det faktum, at de var komplet upålidelige. Her er der ingen, der er interesserede i at servere én for den store endegyldige sandhed.
Der var en mystisk og dyster stemning gennem hele fortællingen, hvilket gjorde WHALITC til den perfekte oktober-læsning. Spooky, hyggelig og underholdende på en og samme tid.
Det er den type roman du skal læse, hvis du gerne vil forundres og ruskes lidt i. Hvis du derimod søger en velsammenskruet thriller hvor det hele hænger godt sammen, skal du nok læse noget andet. WHALITC stiller flere spørgsmål end den giver svar. Og det elskede jeg den for.
You will be wondering about that sugar bowl, I imagine, is it still in use? You are wondering, has it been cleaned? You may very well ask, was it thoroughly washed?