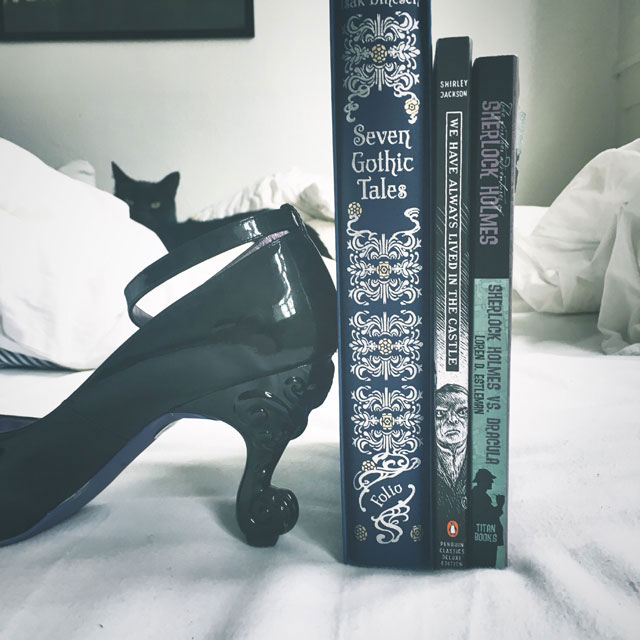 Så er det for alvor blevet efterår og Halloween nærmer sig med halsbrækkende skridt. Edith er lige faldet i søvn midt i et hysterisk anfald (fordi hun ikke måtte lege med fars kontaktlinser), jeg drikker Halloween-te fra Tante-te (de har ikke betalt mig for at fortælle det, jeg havde bare lyst – helt af mig selv) og tænker på de bøger jeg gerne vil læse her i oktober. Jeg får dog ikke så meget tid til at læse den næste måneds tid fordi en milliard mennesker har fødselsdag og vi har lige overtaget en skøn lejlighed med tilhørende renoveringsprojekt (som vi ikke har spor forstand på). Men jeg ville blive rigtig glad, hvis jeg fandt tid til at læse disse tre bøger, der hver især er en lille hyldest til efteråret og Halloween:
We Have Always Lived in the Castle af Shirley Jackson:
En lille klassiker som eftersigende skulle være en sær fortælling om en dyster familiehemmelighed, mord og isolation. Jeg skal læse den sammen med en fra min bogklub, og glæder mig til at komme igang.
Seven Gothic Tales af Karen Blixen:
I den smukke udgave fra Folio Society med introduktion af min yndlings forfatter, Margaret Atwood.
Sherlock Holmes vs. Dracula af Loren D. Estleman:
Et lettere fjollet men også ganske sjovt koncept (håber jeg) hvor de to historier mixes sammen. Aner ikke, hvad jeg skal forvente mig, men håber på at blive underholdt.
Hvad skal du læse i oktober?