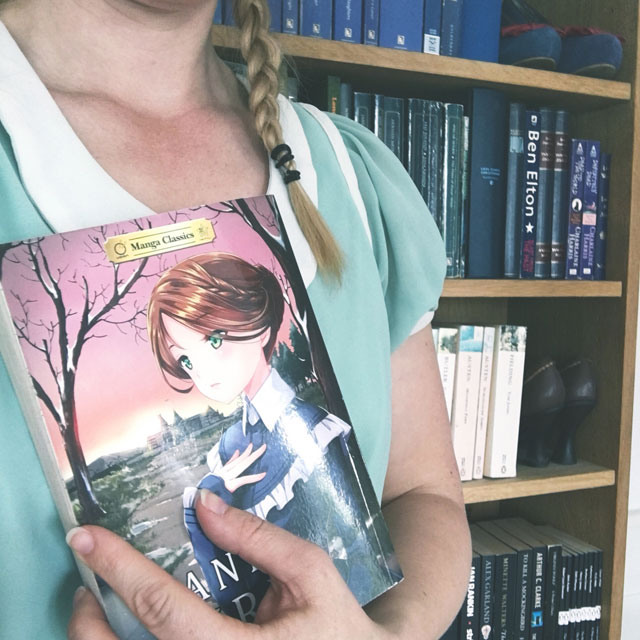 Titel: Jane Eyre: Manga Classic
Forfatter: Charlotte Brontë, genfortalt af Crystal S. Chan, illustreret af SunNeko Lee
Først udgivet: 2016
Antal sider: 309
Sådan starter den: There was no possibility of taking a walk that day
5 af 5 stjerner
En skøn genfortælling af Jane Eyre. Klart anbefalelsesværdig!
Ja, jeg har lige læst Jane Eyre, men i min søgen på den perfekte udgave faldt jeg over denne skønne Manga Classics og kom til at købe den. En aften jeg var træt og ugidelig gik jeg i gang med den. Bare sådan for sjov – jeg var jo egentlig i gang med en anden bog.
Jeg var grebet fra første side. Selvom jeg lige skulle vende mig til, at læse bogen bagfra. Det var en skøn læseoplevelse. Jeg ved ikke, om jeg havde fået det samme ud af den, hvis jeg ikke kendte historien i forvejen. Men jeg nød den i fulde drag. Jeg kan rigtig godt lide tegnestilen, og det var sjovt at se, hvordan persongalleriet blev fortolket. Især scenen hvor Jane tegner et portræt af sig selv og hvordan hun tror, at den smukke Blanche Ingram ser ud. For at minde sig selv om, at ingen mand ville foretrække hende frem for en smuk kvinde. At se tegningerne stikker kniven lidt dybere i hjertet.
Jeg kan klart anbefale denne skønne Manga til dig, der gerne vil (gen)læse Jane Eyre, men ikke lige har de 20 timer det tager.