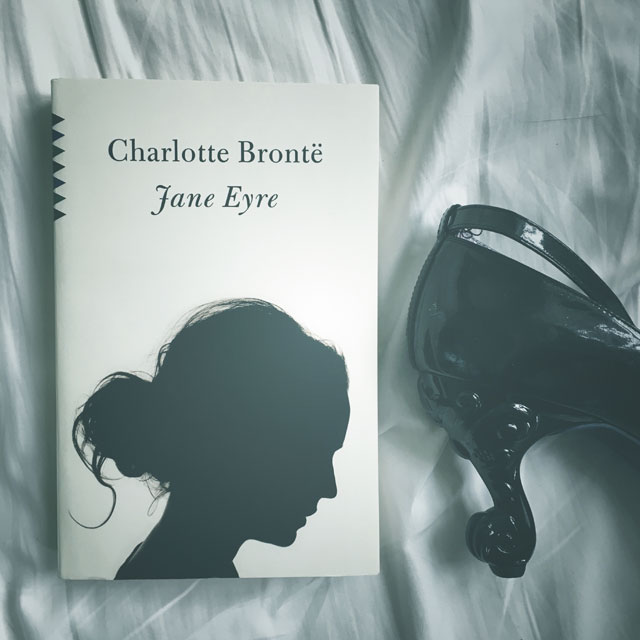 I am no bird; and no net ensnares me: I am a free human being with an independent will.
Titel: Jane Eyre
Forfatter: Charlotte Brontë
Først udgivet: 1847
Antal sider: 596 sider
Jeg vil anbefale bogen til: Alle, der elsker en god klassiker.
Sådan starter den: There was no possibility of taking a walk that day.
4 af 5 stjerner
'Jane Eyre' er en Askepot-agtig fortælling om den forældreløse Jane, der vokser op hos sin fjendtlige tante og hendes forkælede børn. Vi følger hende i det kærlighedsløse hjem, videre på kostskole, og endeligt til en plads som guvernante på Thornfield. Hun kommer til at elske dette hjem og husets herre, Mr. Rochester. Men der foregår noget mystisk som alle i huset holder hemmeligt …
Det er en skøn roman med kærlighed, spænding, gotiske elementer, et fantastisk persongalleri og velskrevet sprog. Jeg elsker denne roman, og det var fantastisk at genlæse den med min bogklub. Jane bliver dog aldrig min yndlings heltinde. Selvom hun er viljestærk og selvstændig som normalt er buzzwords hos mig, er der noget irriterende frelst over hende. Hun gør altid det rigtige! Alligevel er der noget befriende over en karakter som Jane. Jeg kan godt lide, at hun ikke bliver beskrevet som smuk som heltinder normalt bliver. Hun er beskrevet som en lille grå mus, som ingen ligger mærke til.
Do you think, because I am poor, obscure, plain and little, I am soulless and heartless? You think wrong! – I have as much soul as you, – and full as much heart! And if God had gifted me with some beauty and much wealth, I should have made it as hard for you to leave me, as it is now for me to leave you!
Rochester derimod er der mere bad-boy over: han er utilgiveligt løgnagtig, har intet problem med at spærre ustabile kvinder inde, respekterer ikke Janes ønsker om ikke at blive pyntet som en lille dukke. Han har med andre ord et kæmpe ego og ingen respekt for andre. Men han har humor. Der er fx et kapitel, hvor han narrer et helt selskab – det er guld værd!
Alt i alt en fremragende klassiker med en unik heltinde (især efter datidens standarder). Læs den, hvis du ikke allerede har gjort det. Og hvis du har, så læs den igen!