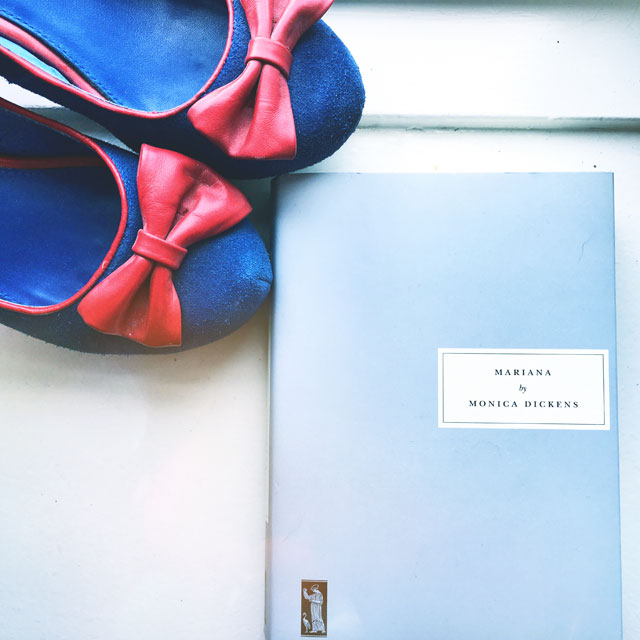 This review is also available in English
Titel: Mariana
Forfatter: Monica Dickens
Først udgivet: 1940
4/5 stjerner
I 'Mariana' følger vi en ung piges opvækst i 1920erne og 30erne. Vi følger hendes barndomsminder, forelskelser, hjertesorg, drømme og skuffelser. Det er en simpel med fin historie uden det store drama. Bogen er sød uden at være vammel, og er simpelthen en herlig fornøjelse at være i selskab med. Jeg nød hver side, og ønskede, at den aldrig ville slutte. Jeg sneg mig til at læse hvert øjeblik jeg havde, og glemte alt om blog og strikkeprojekter.
People don't want to read about people in heaven. They like to lick their lips over them in hell.
Jeg holdt umådeligt meget af vores hovedperson, Mary. Hun sætter pris på de gode ting i livet, føler kærlighed helt inde i sjælen, er kreativ og drømmende. Selvom hun er social, har hun behov for at være alene og nyder sit eget selskab. En pige efter mit hjerte!
She had a feeling of calmness, almost of dignity, that she had never had when she was not alone. With other people one was only an unconsidered fragment of the company; alone, one was a complete entity by oneself.
'Mariana' er en vidunderlig roman som jeg vil anbefale til alle, der holdt af I Capture the Castle, A Tree Grows in Brooklynn, 'Anne of Green Gables' og Jane Austen. Eller bare til alle, der holder af at læse dannelsesromaner fyldt med drømme og kreativitet.
She was nineteen and it felt wrong not to be in love.
Monica Dickens er en forholdsvist ukendt – for mig i hvert fald – forfatter, på trods af at hun har skrevet et hav af bøger og er Charles Dickens oldebarn. 'Mariana' har været ude af print i mange år og er først for nylig blevet genoptrykt – så det bliver spændende at se, om hendes andre bøger er til at støve op, men jeg vil gøre et ærligt forsøg.
This review is also available in English