She had become accustomed to being lonely. She was used to walking alone and to being considered 'different.' She did not suffer too much.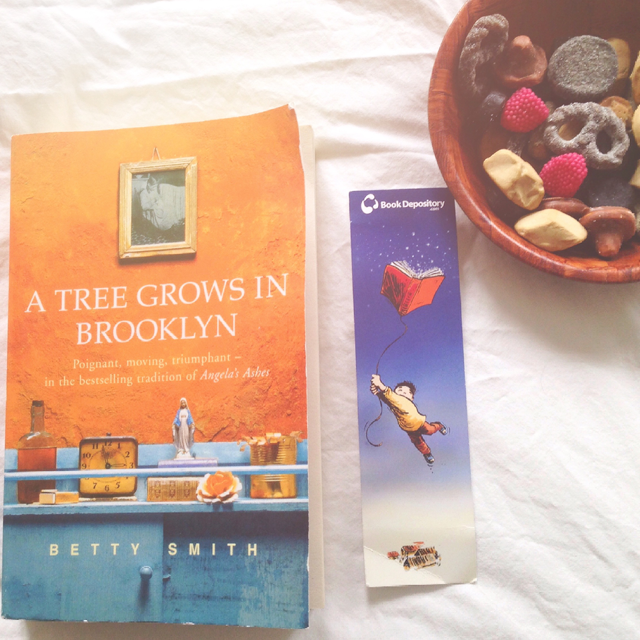 Title: A Tree Grows in Brooklyn
Author: Betty Smith
First Published: 1940
My Rating: 4 of 5 stars (average rating on Goodreads: 4.22)
I would recommend this book to: Readers who loved I Capture the Castle, Anne of Green Gables and Jane Austen
The Beginning: Serene was a word you could put to Brooklyn, New York.
It's not easy for me to review this book. Part of me absolutely adored it. We follow Francie growing up with her family in the slums of Brooklyn at the beginning of the 20th century. Even though they are poor and struggle to make ends meet, Francie's mother prioritizes to read to her children every day, thus planting a seed of fantasy deep in Francie's soul. This seed will later grow into a love of books and the ability to dream. Francie grows up ambitious, with the ability to imagine that life can be different than a life in poverty; that life can be beautiful and that she can get an education as a way out of poverty.
How can a book lover not love this concept? Words cannot describe how I adored this lovely praise of reading. And literature is not just portrayed as a way to improve one's imagination, but also as a way out of loneliness. Francie doesn't get along with the other kids on her street, but she has plenty of friends in her books:
From that time on, the world was hers for the reading. She would never be lonely again, never miss the lack of intimate friends. Books became her friends and there was one for every mood. There was poetry for quiet companionship. There was adventure when she tired of quiet hours. There would be love stories when she came into adolescence and when she wanted to feel a closeness to someone she could read a biography.
So beautifully put that a bookworm's little heart can do nothing but melt (and cancel all her plans to stay home and read). The writing was beautiful and riveting. And yet a small part of me was disappointed. It seemed that in spite of all this beauty and perfect setting, there was a little black hole where the plot should be. Yes, we follow Francie as she grows up, and there are sub-plots that are absolutely brilliant. But it's more a collection of small stories that build a larger picture. A bit like Anne of Green Gables. I believe that had there been a full plot, this would have been a 5-starred read.
As she read, at peace with the world and happy as only a little girl could be with a fine book and a little bowl of candy, and all alone in the house, the leaf shadows shifted and the afternoon passed.