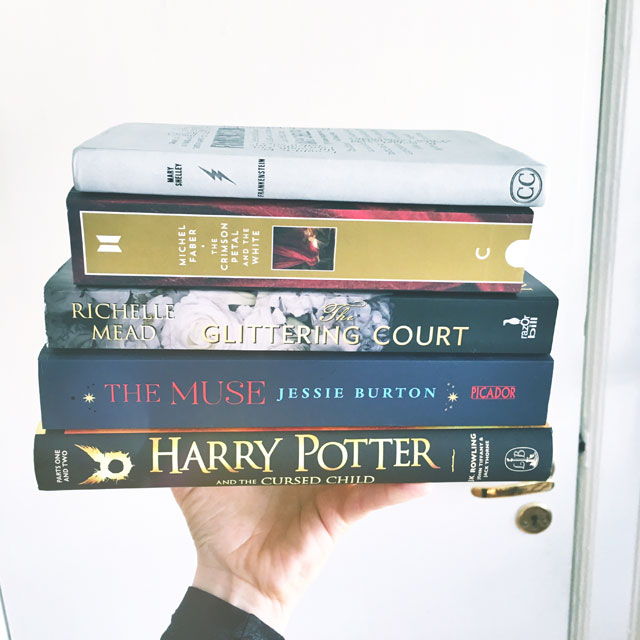 Jeg har virkelig været god til ikke at købe bøger i min barsel. Planen var, at mine tre to-read hylder skulle skæres ned til to hylder, så jeg fik mere plads til de læste bøger. Det gik egentlig meget godt. Men så skulle jeg bare lige have én bog. Og så en lille en til. Og pludselig havde jeg mistet overblikket over, hvor mange, der var på vej, og mine tre hylder er fyldt op igen. Og jeg tror, at der er flere på vej med posten …
Men for at citere Joey fra 'Friends': 'I'm not even sorry!' For det er altså nogle pragtfulde bøger, jeg har anskaffet mig. Nogle jeg slet ikke ville kunne leve uden. Fx bliver man da nødt til at læse den nye Harry Potter (læs min anmeldelse her). Og Jessie Burton (forfatter til The Miniaturist) er kommet med en ny roman, 'The Muse', som jeg jo bliver nødt til at læse. Og jeg bliver da nødt til at reagere når Richelle Mead ('Vampire Academy' og Succubus-serien), min yndlings guilty pleasure forfatter (selvom jeg egenlig er modstander af det begreb) er kommet med en ny serie. Så var der lige en læseaftale med nogle venner på Goodreads om at læse 'The Crimson Petal and the White' – aftaler med venner skal jo overholdes. Og så var der 'Frankenstein' … okay, den var måske ikke helt nødvendig, da jeg har den i forvejen … Men den er så pæn, og I var så flinke at hjælpe mig med, hvilken udgave jeg skulle vælge. (Så nævner vi ikke, at jeg valgte modsat den, der blev stemt på).
Har du læst nogle af de her bøger? Og har du fået nogle gode nye bøger?
---
English recap
I was doing so well not buying any books, and then this happened!