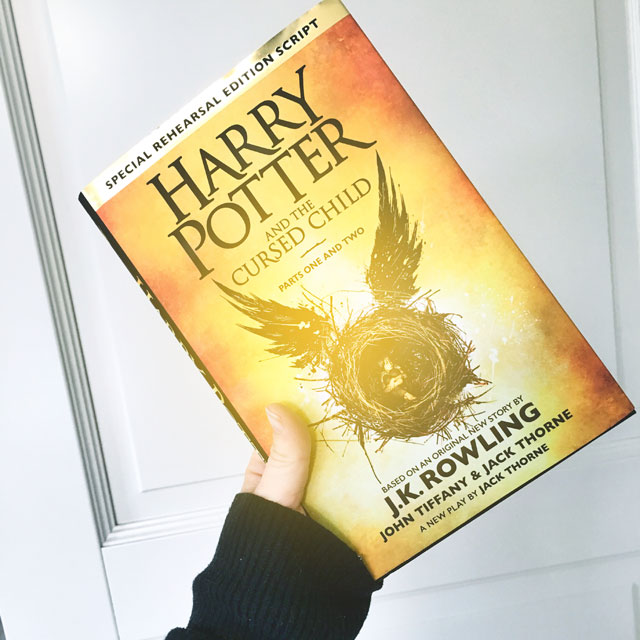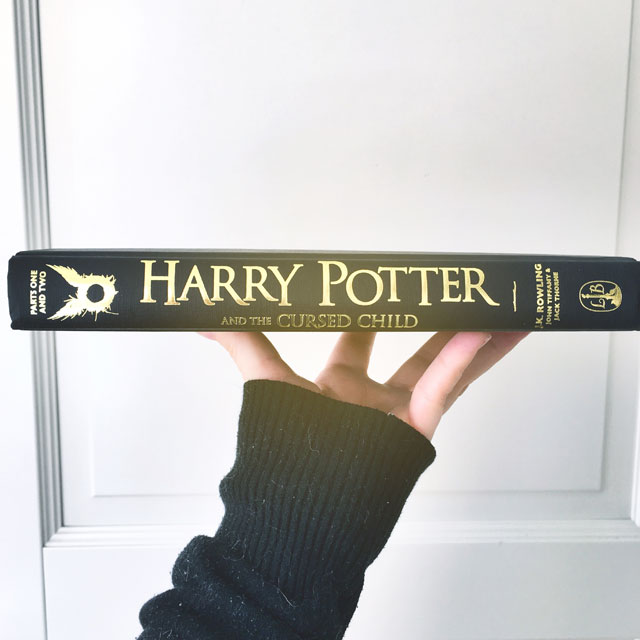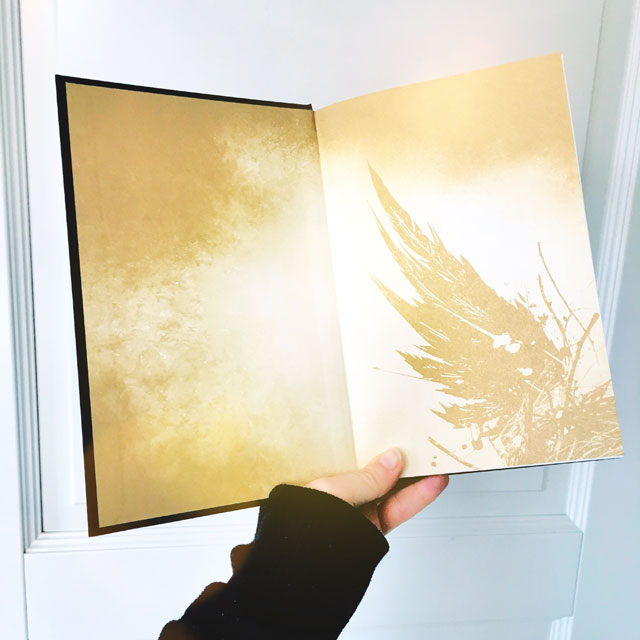 Titel: Harry Potter and the Cursed Child
Forfatter: J.K. Rowling, John Tiffany og Jack Thorne
Først udgivet: Juli, 2016
Jeg vil anbefale bogen til: Det giver vist sig selv
2 af 5 stjerner
Lad nu være med at have for høje forventninger. En sætning jeg har sagt til mig selv igen og igen. Alligevel var der forventniger om et kærligt gensyn med en verden, der føles tryg og hyggelig. Harry Potter bøgerne kan som ingen andre bøger få mig til at føle mig hjemme, når jeg ikke helt kan finde ud af mit liv. Som da jeg lige var blevet mor og var rædselsslagen. Der hjalp Harry Potter mig med at føle mig varm og tryg. J.K. Rowling kan et eller andet med sit magiske univers. Så længe hun havde en finger med i spillet, måtte magien stadig være der.
I don't care what you did or who you saved, you are a constant curse on my family, Harry Potter.
Den startede egentlig fint nok. Vi er på Platform Nine and Three-Quarters, Albus Potter (Harry Potters søn) skal på sin første rejse med toget mod Hogwartz. Han er bekymret for hvilket hus han bliver tildelt, om han får venner, om han kan klare sig i skolen og om han kan leve op til sin berømte far og dygtige storebror. Mod alles forventning bliver han venner med Draco Malfoys søn, bliver tildelt Slytherin og bliver uvenner med sin far. I trods mod sin far kaster han sig ud i et eventyr i et forsøg på at spille helt.
Plottet er egentlig en meget sjov idé, men det var lidt kluntet udført. Vi har en enorm mængde action som er klemt ned på 330 absolut ikke tætskrevne sider. Det kom til at virke rodet, og jeg kunne ikke finde J.K. Rowling blandt siderne.
Harry, there is never a perfect answer in this messy, emotional world. Perfection is beyond the reach of humankind, beyond the reach of magic. In every shining moment of happiness is that drop of poison: the knowledge that pain will come again.
Skuespil-stilen fungerede ikke rigtig for mig. I stedet for de sjove og kreative detaljer, der pryder Potter-bøgerne, var manuskriptet spækket med action og dialog. Meget af tiden føltes det som om jeg læste en amatørs forjagede fan-fiction. Jeg ville ønske, at de i stedet for at have udgivet manuskriptet havde genskrevet den som en roman. Jeg tror, at dette er et skuespil, der skal ses, ikke læses.