If you don't imagine, nothing ever happens at all.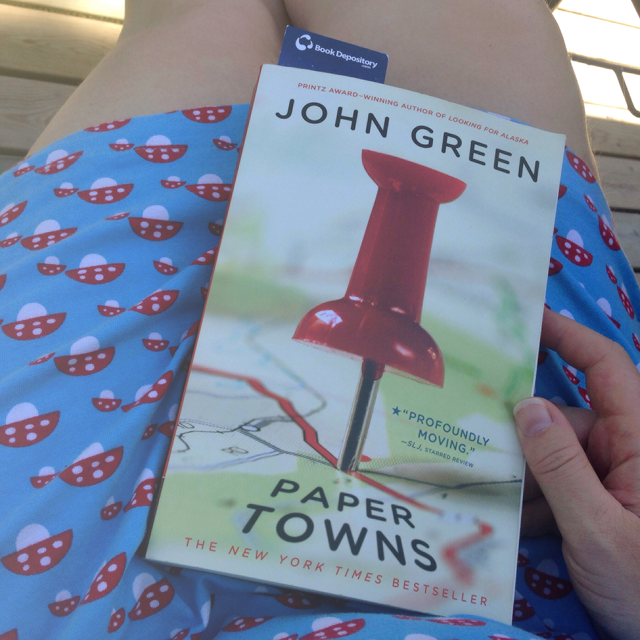 Title: Paper Towns
Author: John Green
First Published: 2008
My Rating: 3 of 5 stars (average rating on Goodreads: 3.98)
I would recommend this book to: Anyone who needs a light read
The Beginning: The way I figure it, everyone gets a miracle.
Quentin is secretly in love with the cool girl next door. In his head – and in the safety of his comfort zone – he's got a perfect version of what Margo is like. One night she drags him out of his comfort zone and into a crazy quest of revenge. The next day she disappears, leaving him tiny clues to where she is. Q is then on his own quest to discover where M is. And who M really is.
Paper Towns is a light and entertaining read. It gives its reader a few good laughs. I read it after reading the very serious and tragic Underground, and Paper Towns was just what the doctor ordered to pick me up again. But the minute I had turned the last page, I forgot all about it, and hungered for a book with more sustenance.
We waited. And for those two minutes we just stared at each other, and I watched the blue in her eyes. It was nice – in the dark and the quiet, with no possibility of me saying anything to screw it up, and her eyes looking back, like there was something in me worth seeing.
This was far from John Green's best work. I reminded me too much of Looking for Alaska. Some scenes and conversations could almost have been leftovers from Looking for Alaska, which annoyed me. The plot seemed a bit weak, but I liked how the story ended though.