I always deserve the best treatment because I never put up with any other.
– Emma
You see how picky I am about my shoes and they only go on my feet.
– Cher (from Clueless)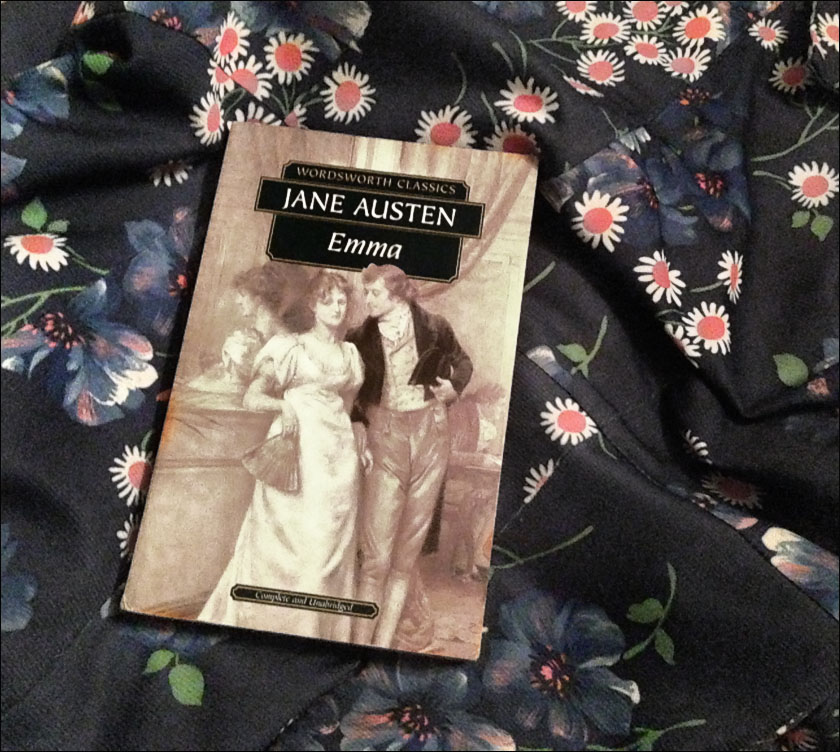 Title: Emma
Author: Jane Austen
First Published: 1815
My Rating: 4 of 5 stars (average rating on Goodreads: 3:96)
I would recommend this book to: Any sucker for Jane Austen's beautiful prose and clever remarks – and dedicated fans of Clueless
The Beginning: Emma Woodhouse, handsome, clever, and rich, with a comfortable home and happy disposition, seemed to unite some of the best blessings of existence; and had lived nearly twenty-one years in the world with very little to distress or vex her.
Oh, how marvelous it is to revisit the world of Jane Austen. I've been meaning to reread Emma for ages. I read it 10 years ago for a Jane Austen class, where we went through all six novels in one semester. I love Jane Austen, but reading all the novels in one go is too much. Emma was one of the last novels we read in the class, and I'd had about enough at that point. I've always felt that I would have to reread Emma again at some point. As I've said many times before, I like variety in my books – that's why I've challenged myself to read different genres in 2014: to ensure variety.
As bad as it makes me sound, part of me identifies with Emma. This is difficult for me to admit, as many – as well as myself – consider Emma Jane Austen's least likable character. Rereading Emma felt like looking at my worst sides when I was in my twenties.
Better be without sense than misapply it as you do.
– Emma
Do you prefer "fashion victim" or "ensembly challenged"?
– Cher (from Clueless)
I'm not totally like Emma: I don't try to match make and I don't interfere with people's life decisions (unless they're clearly making a mistake.) But I do sometimes have a bit of a know-it-all attitude (I'm working on it!) even though I don't have a clue (which I'm not working on, I might add). And I can be a bit manipulative (but only when it's really important). And finally, throughout my teens and most of my twenties, I was certain that there was no man in this world I would ever want to live with. Boy, was I clueless!
My being charming…is not quite enough to induce me to marry.
I must find other people charming – one other person at least.
– Emma
Searching for a boy in high school is as useless as searching for meaning in a Pauly Shore movie.
– Cher
And speaking of Clueless: I love doing these comparisons between Jane Austen novels and popular books and movies. For instance, Bridget Jones is based on Pride and Prejudice, Bridget Jones the Edge of Reason is based on Persuasion, and Clueless is based on Emma.
Let's try to list the similarities:
• In Emma, our heroine befriends the poor Harriet Smith and teaches her how to be more ladylike – in Clueless, Cher befriends outsider Tai and tries to make her popular.
• Emma manipulates Harriet into refusing a marriage proposal from the man she loves because he's just "a simple farmer" – in Clueless, Cher tells Tai to not have anything to do with the skater boy she adores.
• Emma convinces Harriet that she should set her heart on Mr. Elton – in Clueless, Cher convinces Tai to go for Elton.
• Emma paints a portrait of Harriet, which Mr. Elton frames, not because he's in love with Harriet, but because it's painted by Emma – Cher takes a photo of Tai, which Elton puts in his locker because Cher took the picture ("I'm having a Twin Peaks experience").
• Mr. Elton proposes to Emma in a carriage on their way home from a dance – Elton makes a pass at Cher in a car on their way home from a party.
• Emma thinks she's in love with Frank Churchill, but he's engaged to another and they become friends instead. In Clueless, Cher throws herself at Christian who turns out to be gay. They become friends.
• In Emma, Harriet Smith is attacked by gypsies and rescued by Frank Churchill – Tai is attacked by some boys at the mall and rescued by Christian.
• At a dance, Harriet is left with no one to dance with, when Mr. Knightly saves her by dancing with her. In Clueless, Tai is alone at a party when Josh rescues her by dancing with her.
• Emma discovers that she's in love with Mr. Knightly when Harriet declares that she's in love with him. Cher discovers that she's in love with Josh when Tai declares she's in love with him.
I may have lost my heart, but not my self-control.
– Emma

As if!
– Cher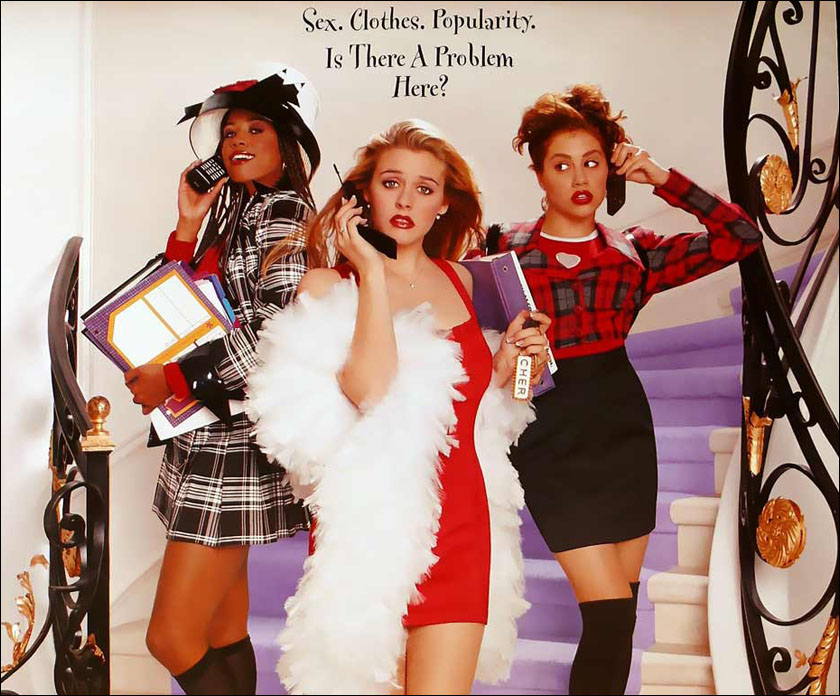 Did I forget something? Have you noticed any other similarities between Clueless and Emma? Please share!