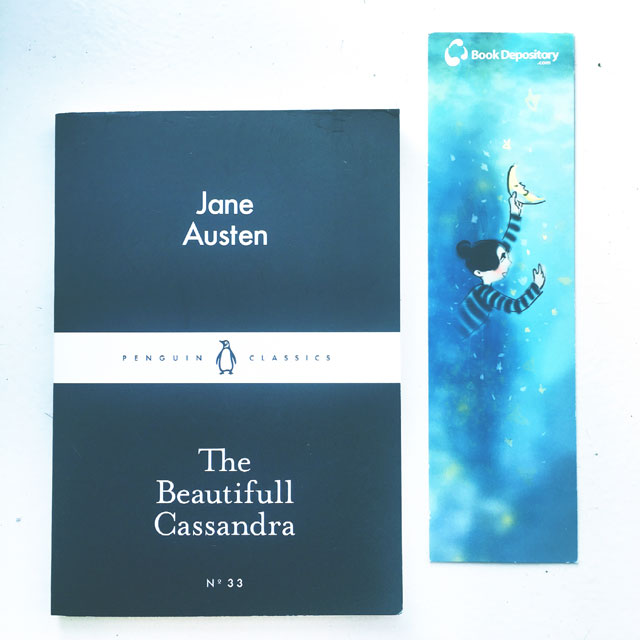 Titel: The Beautifull Cassandra
Forfatter: Jane Austen
Først udgivet: 1793
Jeg vil anbefale bogen til: Jane Austen fans
3 af 5 stjerner
Penguin's Little Black Classics nr. 33 er Jane Austens 'The Beautifull Cassandra'; en samling skøre og fjollede korte historier som Jane Austen skrev i sin barndom og teenageår og læste højt for sin familie. Vi møder jaloux søskende, materialistiske og forfængelige mænd, mordere, drukkenbolte og nedladende ældre damer, der henleder tankerne på Lady Catherine de Bourgh.
It is not my way to find fault with people because they are poor, for I always think that they are more to be despised and pitied than blamed for it, especially if they cannot help it.
Selve historierne er ikke noget særligt, men Jane Austens skønne sarkasme og talent for at skrive skinner klart og tydeligt igennem. Denne lille sorte sag er spøjst underholdende og et must read for Jane Austen fans. Men også kun de hardcore fans. Hvis man skal prøve Austen for første gang håber jeg, at man venter med denne, da den slet ikke kan måle sig med hendes talent for historiefortælling i romanerne. Men en sjov læseoplevelse for fans.
I look upon myself to be Sir a perfect Beauty – where would you see a finer figure or a more charming face (…) Your daughter sir, is neither sufficiently beautifull, sufficiently amiable, sufficiently witty, nor sufficiently rich for me.
Edith er fan: