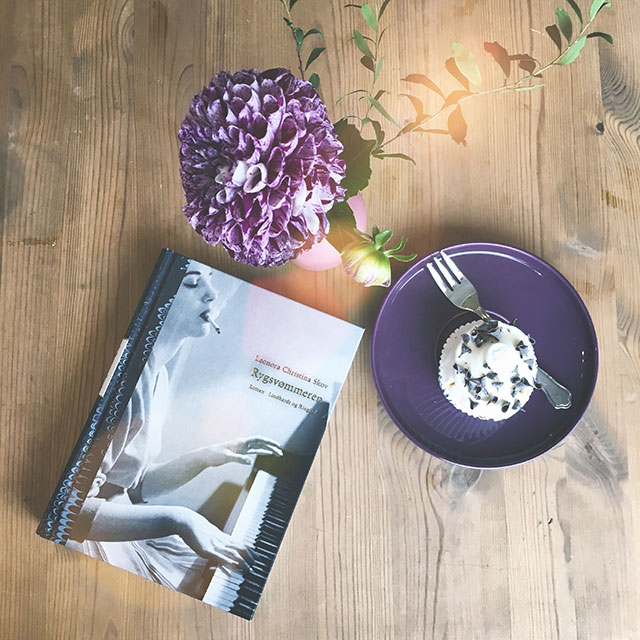 Rygsvømmeren af Leonora Christina Skov
En drømmelignende roman om misbrug – anmeldereksemplar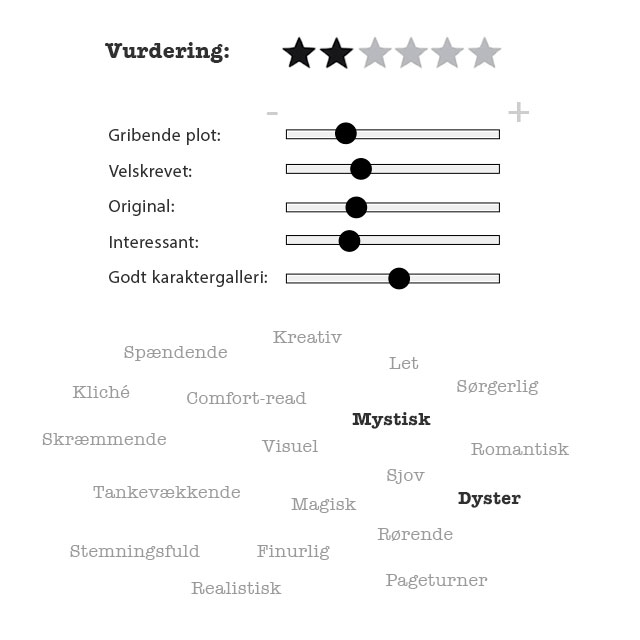 Plot: Cora tager et job som lærerinde på en præstegård, hvor der foregår noget mystisk. Langsomt tvinges hun til at anerkende den fortid hun helst vil glemme.
Det kunne jeg lide: 'Rygsvømmeren' er smukt skrevet, meget stemningsfuld og med nogle interessante personligheder mellem siderne.
Det var jeg knap så vild med: Jeg for fuldstændigt vild i 'Rygsvømmeren'. Den drømmelignende tilstand var fascinerende til at starte med, men forvirrede mig i den grad, at det dannede et slør imellem mig og karaktererne. Jeg kunne ikke finde hoved og hale i plottet, hvilket irriterede mig, da det ellers var et interessant koncept.
Yndlings citat:
– Vil du ikke godt prøve at være lidt som os andre?
Og det var jo faktisk også, hvad jeg prøvede hele tiden, men der var bare ingen, der bemærkede min gode vilje.
---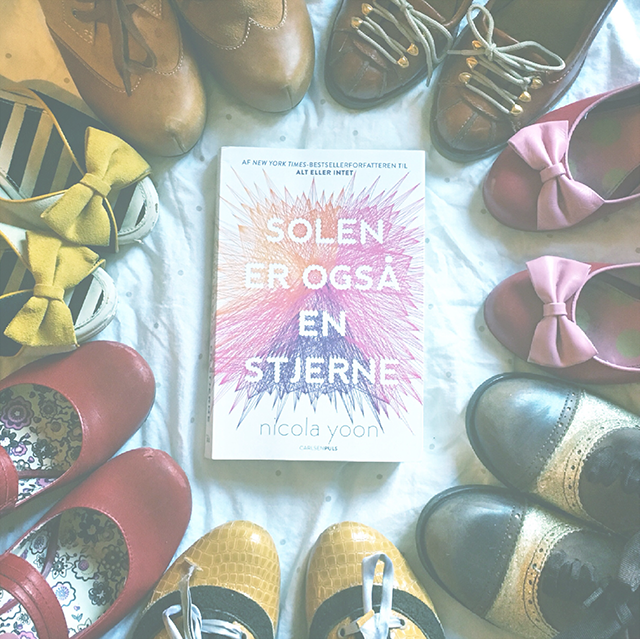 Solen er også en Stjerne af Nicola Yoon
Den vildeste pageturner, der dolker dig i hjertet for bagefter at stryge din kind – anmeldereksemplar.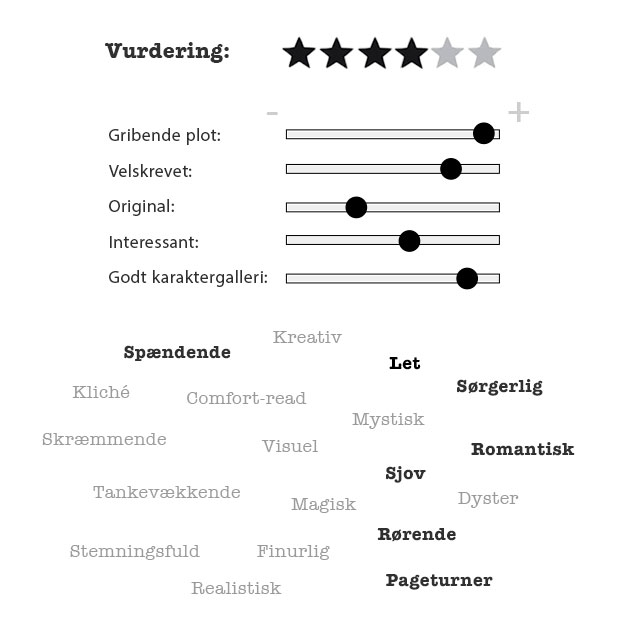 Plot: Forestil dig Before Sunrise som ungdomsroman med en kæmpe tordenssky i baggrunden. Natasha og Daniel mødes tilfældigt en skæbnesvanger dag og vi følger dem lære hinanden at kende og forelske sig i hinanden. Det er samme dag, hvor Natasha er blevet udvist og skal forlade USA om aften.
Det kunne jeg lide: Jeg elskede dialogen mellem Natasha og Daniel. Den var intelligent, humoristisk og romantisk. Jeg slugte deres dag sammen på under et døgn. Jeg nød de skønne detaljer i bogen og hvordan det så fint blev vist, at små tilsyneladende ubetydelige handlinger kan påvirke et andets menneskes liv. Og så fik den mig til at tudbrøle. Hvilket altid er rart (især hvis man ikke befinder sig i fuld offentlighed).
Det var jeg knap så vild med: Jeg kan ikke rigtig komme på noget …
Yndlings citat:
Det er ikke dit problem at hjælpe andre med at putte dig i en kasse.
---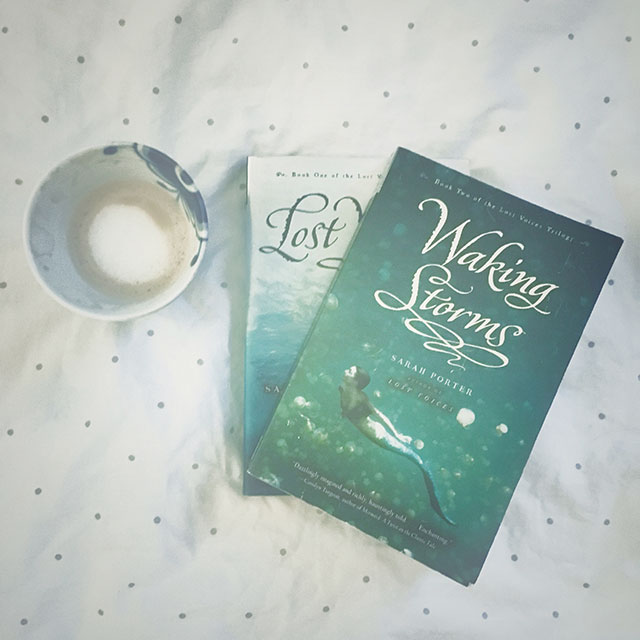 Waking Storms (Lost Voices #2) af Sarah Porter
En kold og dyster fantasy med antihelte og dysfunktionelle forhold.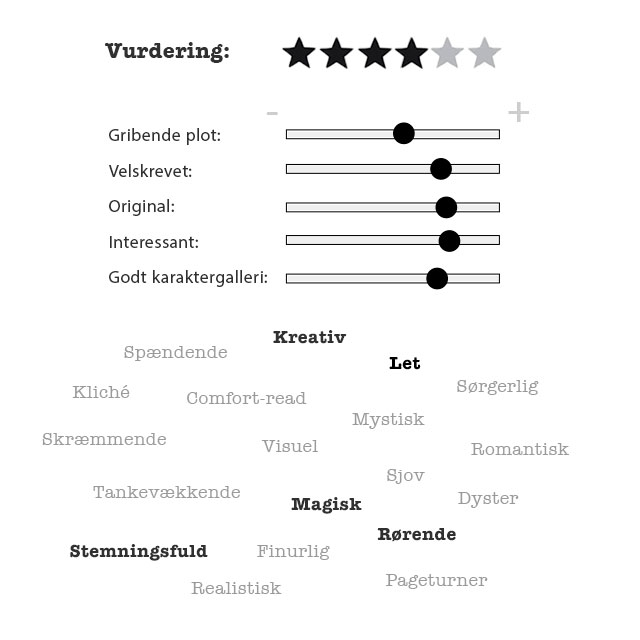 Plot: Det er så svært at beskrive plottet midt i en serie uden at spoile 1'eren. I stedet vil jeg linke til min anmeldelse af 1'eren lige her.
Det kunne jeg lide: Jeg elskede den dystre stemning, som vi også så i 1'eren, Lost Voices. Jeg er fascineret af Sarah Porters talent for at kombinere fantasy med realisme, der føles så ægte, at man glemmer alt om havfruehaler og magi. Jeg er så glad for, at vores heltinde ikke er en klassisk stærk heltinde. Hun er stærk og svag på samme tid. Hun er et realistisk billede af en 14-årige pige, der har mistet alt, bliver udstødt af kliken og kaster sig hovedkulds ind i et dysfunktionelt forhold. Jeg hadede den mandlige kærlighedsinteresse, der bliver præsenteret her i 2'eren. Men det er vist også meningen, så det er faktisk positivt – og yderst forfriskende.
Det var jeg knap så vild med: Der var en enkelt sidehistorie jeg ikke var så begejstret for: historien om hovedpersonens far interesserede mig ikke. Og generelt savnede jeg lidt mere handling. Men det kan være jeg får det i 3'eren.
Yndlings citat:
He was trying to be heroic, to risk death out of love for her. It was just a kind of heroism she didn't want.