If I was bound for hell let it be hell. No more false heavens. No more damned magic. You hate me and I hate you. We'll see who hates best.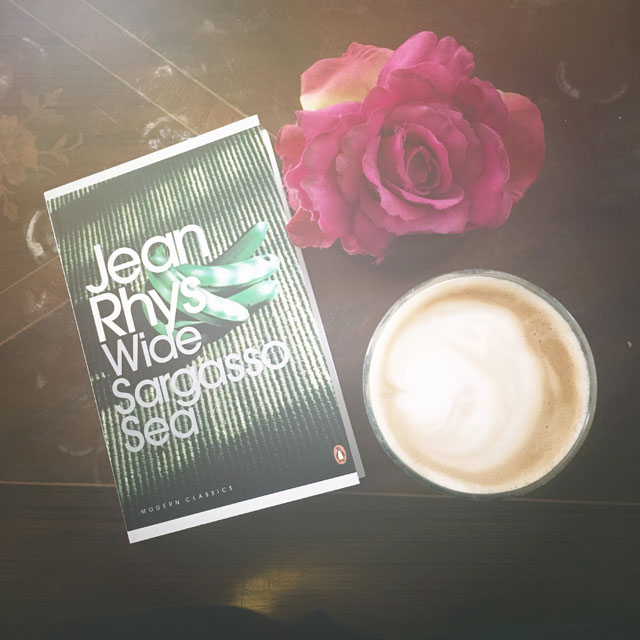 Titel: Wide Sargasso Sea
Forfatter: Jean Rhys
Først udgivet: 1966
Antal sider: 156
Sådan starter den: They say when trouble comes close ranks, and so the white people did.
3 af 5 stjerner
Historien bag 'the mad woman in the attic' i Jane Eyre – en anelse skuffende men alligevel et must-read for Jane Eyre fans.
Dette er fan fiction før der var noget, der hed fan fiction (tror jeg). Vi går i dybden på Antionette, den vanvittige kvinde, der er indespærret på loftet i Jane Eyre. Kvinden, der forsøger at slå bl.a. Rochester ihjel og som ødelægger Janes brudeslør. Hvem er hun? Hvad er hendes historie? Den får vi fortalt i 'The Wide Sargasso Sea'.
I have been too unhappy, I thought, it cannot last, being so unhappy, it would kill you. I will be a different person when I live in England and different things will happen to me.
Som Jane Eyre fan, er det fantastisk at få lov til at komme i dybden på denne karakter, der udgør det gotiske element i den berømte klassiker. Det er en tragisk og bedrøvelig historie om ensomhed, kvindeundertrykkelse, fordomme og vanvid. Det var egentlig mere interessant læsning end det var fornøjeligt. Jeg følte fysisk ubehag på næsten hver eneste side. Der var en sær klaustrofobisk stemning, der piblede frem mellem de utroligt velskrevne linjer, og jeg åndende nærmest lettet op da den sidste side var vendt.
It was a beautiful place – wild, untouched, above all untouched, with an alien, disturbing, secret loveliness. And it kept its secret. I'd find myself thinking, 'What I see is nothing – I want what it hides – that is not nothing.'
Selvom romanen er ganske interessant, var jeg alligevel lidt skuffet hele vejen igennem. Jeg havde forventet, at den ville være mere spændende. Jeg ville have elsket, hvis der havde været mere fokus på tiden i England og Antoinettes opfattelse af Jane og hendes rolle i huset. Den del bliver kun let berørt mod slutningen.
Men jeg er nu rigtig glad for at jeg har læst 'Wide Sargasso Sea'. Tak for hjælp med at vælge, hvilken udgave jeg skulle berige min bogreol med.