Bridget. Sleeping with a twenty-nine-year-old off twitter on the second date is not "rather like in Jane Austen's day"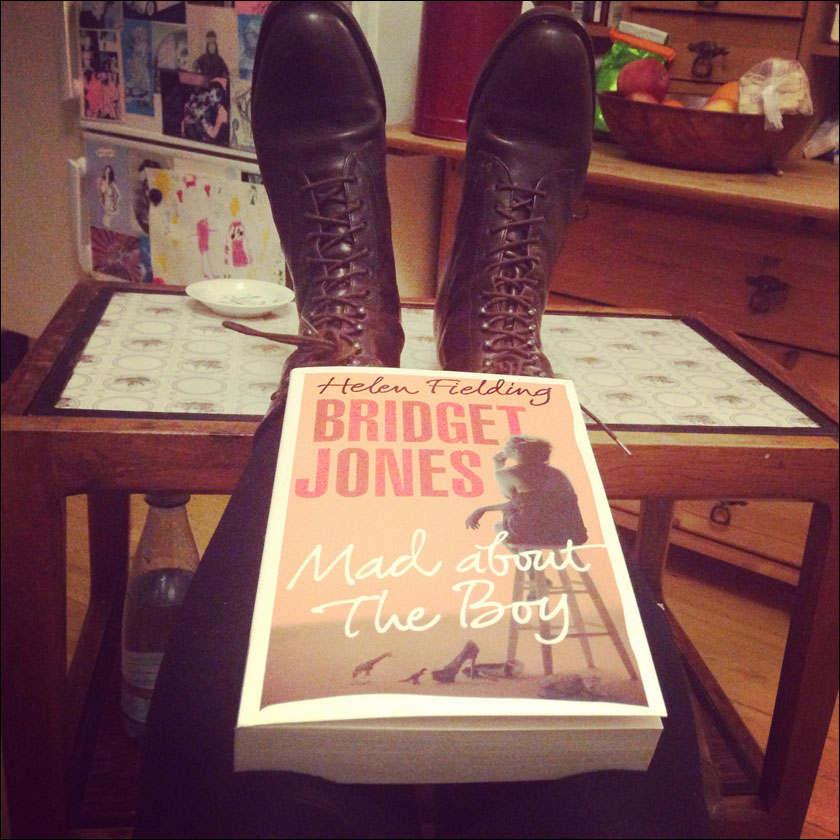 Vintage boots from Episode in Copenhagen
Title:
Mad about the Boy (Bridget Jones #3)
Author:
Helen Fielding
First Published:
2013
My Rating:
4 of 5 stars (average rating on Goodreads: 3:40)
I would recommend this book to:
Anyone who loves Bridget – just as she is.
The Beginning:
Talitha just called, talking in that urgent, 'let's-be-discreet-buy-wildly-overdramatic' voice she always has.
When I heard there would be a new Bridget Jones novel, my initial reaction was 'Oh no, please don't do this'. I had my doubts. Was it a stunt to make money? Would it be any good? I was actually scared to read it. Almost as scared as when I read Rowling's The Casual Vacancy. You don't know if you'll be able to give it a fair chance and read it with an open mind as you would any other novel.
Helen Fielding made it easy for me though. She made me laugh out loud from the very beginning. I had forgotten just how much fun Bridget is!
… he picked me up in his arms, as if I was as light as a feather, which I am not, unless it was a very heavy feather, maybe from a giant prehistoric dinosaur-type bird …

And as something new: Bridget Jones made me cry! Twice! I just couldn't help myself and I certainly didn't expect this at all, but I was devastated. And then she made me laugh again. This made me love the book even more. In spite of all my worries, I had such a good time. When Mr. Boyfriend heard me chuckling throughout the book, he said "I guess this will be a good review".
The third Bridget deserves all her four stars. Helen Fielding did well. I only have two complaints:
1) Towards the end, there were a few pages of "I don't have to be perfect" and "I like you for not being perfect". We got that covered 10 years ago and we're ready to move on. It felt sort of squeezed in – like Fielding suddenly remembered that this was supposed to be included in a Bridget Jones novel.
2) The end seemed rushed … I felt there should have been about 20 extra pages elaborating …
Other than that, it was great to have Bridget back. How did I go without her for all these years? What will I do without her now?