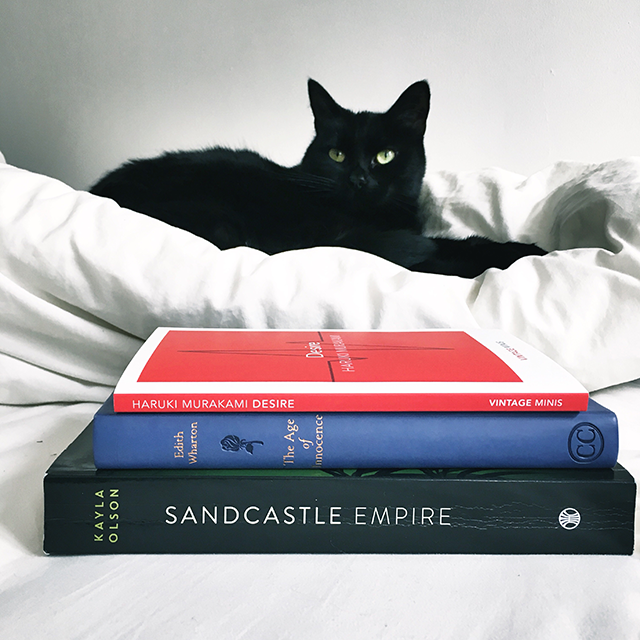 'Sandcastle Empire' af Kayla Olson 2 stjerner
Dystopisk roman, 2017 – anmeldereksemplar
'Indiana Jones' møder 'Lost' i en action-packed dystopia som Leonardo Dicaprio har købt filmrettighederne til. Jeg er en sucker for dystopisk litteratur, men denne skuffede mig. Jeg fandt den overfladisk, klichéfyldt og kedelig på trods af store mængder action. Jeg kan desværre ikke anbefale den.
Men hvis du vil have inspiration til god dystopisk litteratur, har jeg lavet en top 5 over mine favoritter.

'The Age of Innocence' af Edith Wharton 5 stjerner
Amerikansk klassiker,1920 – læst for 3. gang
En af mine absolut favoritter om modet (eller mangel på samme) til at leve det liv man ønsker og ikke det andre ønsker for en. Romanen giver os et glimt af en stærk, følsom og empatisk kvinde – som min datter desuden er opkaldt efter. Selvom det er tredje gang jeg læser den, blev jeg stadig lige overvældet og forfærdet over slutningen, og havde lyst til at kaste bogen langt væk. Each time it happens to me all over again (sorry – man skal have læst bogen for at fange denne reference).
Jeg vil anbefale den til dig, der elsker klassikere. Men det er en bog, der kræver tålmodighed og lyst til at dyrke et sprog og en tid.
'Desire' af Haruki Murakami 4 stjerner
Små historier om begær, alle udgivet før i andre samlinger
Hvis I har fulgt med på mine Instagram-stories (jeg kan følges her), har I måske været vidne til panik-dramaet da den her bog blev væk. Men den blev fundet igen (efter jeg havde købt en ny, selvfølgelig) og læst med stor glæde. 'Desire' er en samling af 5 små historier, der alle handler om en form for begær. De var alle gribende, velskrevede og med hver deres egen syrede særhed.
Jeg kan klart anbefale denne lille perle fra Penguin's pæne Vintage Minis series.