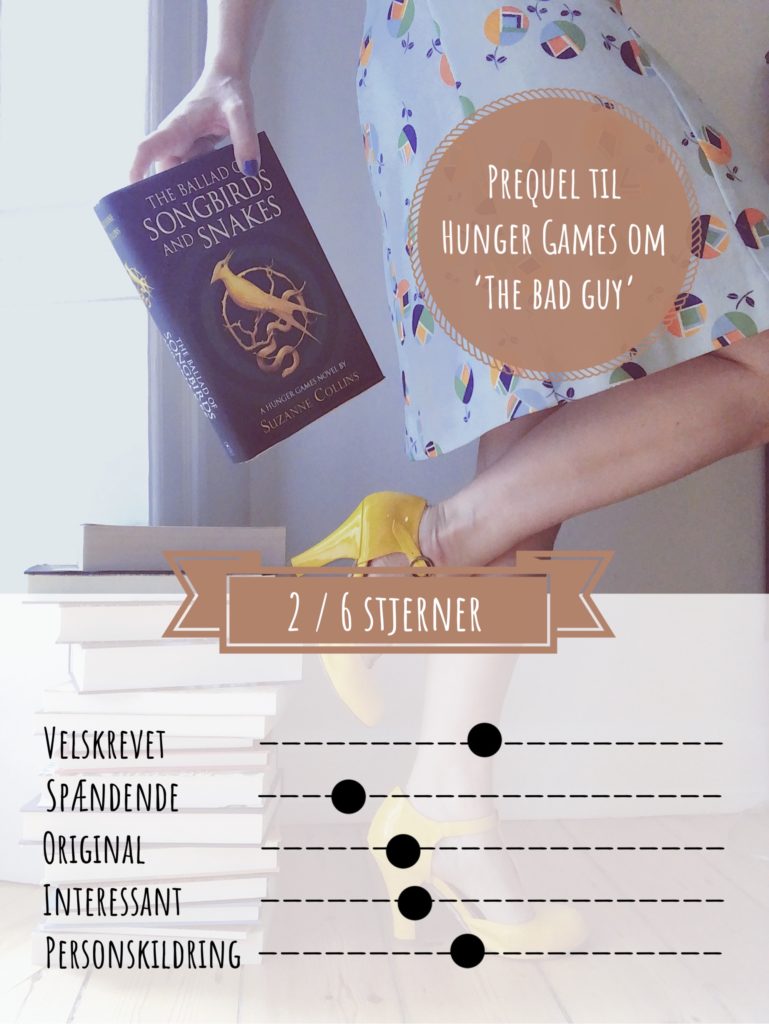 Titel: The ballad of Songbirds and Snakes (The Hunger Games #0)
Forfatter: Suzanne Collins
Sådan blev bogen min: jeg har købt den
Efter at have set så mange lunkne anmeldelser af Hunger Games' nye lillebror, tænkte jeg, at jeg i hvert fald ikke kunne blive skuffet. Der tog jeg så fejl.
Den startede egentlig meget godt. Vi følger 'the bad guy' President Snow – altså før han bliver præsident (og ond). Han kommer fra en respekteret og velhavende familie, der har mistet deres penge under krigen med distrikterne. De holder fattigdommen hemmelig og forsøger at opretholde facaden. Som et skoleprojekt for afgangselever skal Snow være med til at udvikle The Hunger Games og gøre det mere attraktivt for seere.
Jeg elsker historier, der går i kødet på skurkene og forklarer, hvorfor de er blevet så onde. Og jeg glædede mig faktisk til at læse om Snows udvikling. Desværre kom vi ikke rigtig i dybden med ham, og vi nåede aldrig at se ham udvikle sig hele vejen til psycho asshole.
Jeg var ret spændt på at følge udviklingen af The Hunger Games fra en tam boksekamp til storslået, usmagelig, blodig popularitetskonkurrence. Men også her kom vi aldrig rigtig i mål: der blev kradset lidt i konceptet og nogle ideer kom i spil, men vi kom aldrig videre. Jeg havde på fornemmelsen, at alt det interessante først kom efter bogen.
Men værst af alt er, at bogen er ret kedelig. Dvs. den første halvdel var ret interessant og der blev bygget op til en del ting. Jeg var ikke rigtig grebet, men kunne ane spænding i horisonten. Den spænding kom dog ikke. I stedet tog bogen en drejning halvvejs inde, afsluttede forhastet nogle ting, lavede et sjusket og uønsket plot-twist og blev dræbende kedelig. Den sidste halvdel var pinefuld kedsommelig at komme igennem.
Jeg kan ikke anbefale denne bog.