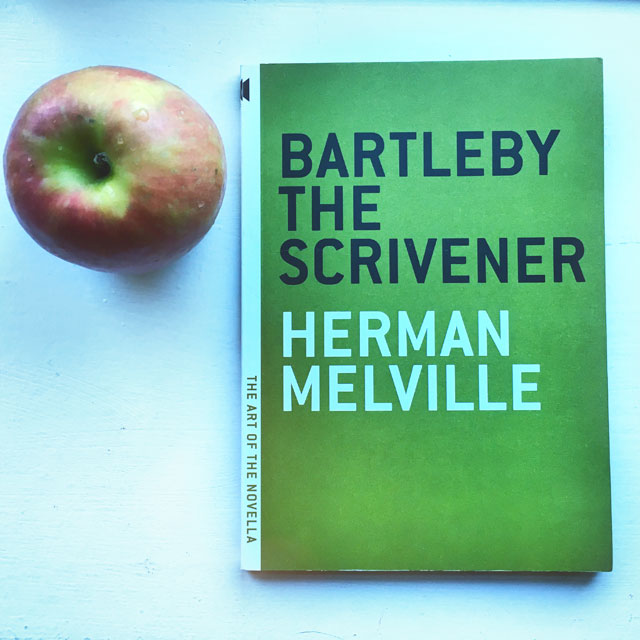 Titel: Bartleby the Scrivener
Forfatter: Herman Melville
Først udgivet: 1953
Jeg vil anbefale bogen til: Alle med mod på en usædvanlig og humoristisk lille klassiker
Sådan starter den: I am a rather elderly man.
Antal sider: 64
4 af 5 stjerner
Vores hovedperson er en fornuftig, arbejdsom og respektabel gentleman, der leder et advokatkontor på Wall Street. En dag ansætter han en medarbejder ved navn Bartleby. Han er dygtig, pligtopfyldende og uhyre produktiv. Indtil den dag han bliver bedt om at udføre en simpel opgave, hvortil han høfligt svarer "I would prefer not to". Og så starter det. Først er det små opgaver og senere er det alle slags opgaver. Han nægter aldrig, er aldrig uhøflig, og lytter opmærksomt til hvad han bliver bedt om. Og svarer konsekvent "I would prefer not to". Vores advokat aner ikke, hvad han skal stille op med Bartleby. Han prøver at fyre ham, men han bliver siddende. Når han beder ham om at gå hjem, siger han blot "I would prefer not to".
Jeg læste denne novelle (eller novella som det egentlig er) for flere år siden, da jeg læste amerikansk litteratur på universitetet, og har længe gerne ville genlæse den. Jeg var dog i tvivl, om den kunne bære at blive læst uden en underviser i ryggen til at tegne og fortælle, til at hjælpe en med at dykke dybere ned, at sætte den ind i en litterær kontekst. Som fx var tilfældet ved min genlæsning af Daisy Miller.
Men den var præcis så humoristisk og mærkelig som jeg huskede den. En sær og frustrerende historie om det høflige og dannede menneske. Om de normer, der binder vores samfund sammen, og hvor lidt der skal til for tippe båden. Om hvordan vi forfærdes over det anderledes menneske, mennesket der tør sige "I would prefer not to".
Historien er fortalt i et let og enkelt sprog, med en høflig tone, der fremhæver det absurde og humoristiske. Jeg nød den så meget, at jeg var nødt til at læse den en tredje gang.
Tip: hvis du bruger audible til lydbøger, kan du høre 'Bartleby' gratis via deres nye 'channels'. Den ligger under 'Classic Fiction', er fremragende læst op og varer kun 1 time og 48 minutter. Og nej, de har ikke betalt mig for at skrive det her 😉
---
In English
Our protagonist is a sensible, hard-working and respectable gentleman, who heads a law firm on Wall Street. One day he hires an employee named Bartleby. He is skilled, dedicated and extremely productive. Until the day he is asked to perform a simple task to which he politely answers, "I would prefer not to". And so it starts. At first it's minor tasks he prefers not to perform, and then it all kind of tasks. He never refuses, is never rude, and he listens carefully to his boss. But he consistently resplies, "I would prefer not to". Our lawyer has no idea what he should do with Bartleby. He tries to fire him, but doesn't leave. When he asks him to go home, he simply states, "I would prefer not to".
Read more