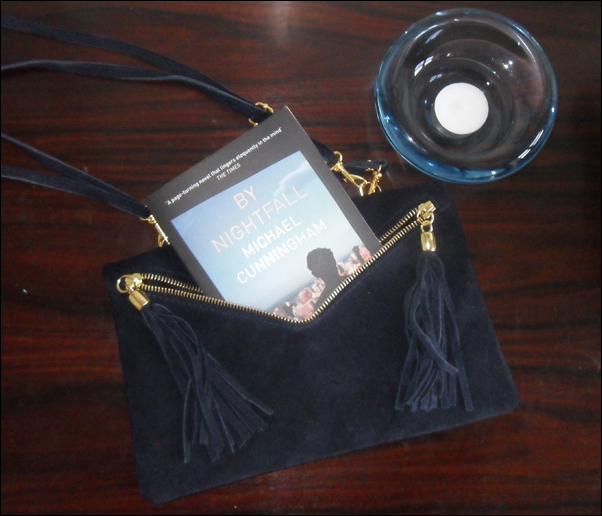 Title: By Nightfall
Author: Michael Cunningham (Author of The Hours and A Home at the End of the World)
First Published: 2010
My Rating: 2 of 5 stars (average rating on Goodreads: 3:34)
Format: Paperback, 238
First line: The Mistake is coming to stay for a while

By Nightfall is the story of Peter and Rebecca Harris, a married couple in their mid-forties who seem to have it all: he's an art dealer, she's an editor, they're somewhat wealthy and live in New York. When Rebecca's much younger brother, Ethan (aka Mizzy, "the mistake") comes to stay, Peter finds himself attracted to him and his youth. Deeply concerned with youth and death, Peter starts questioning everything in his life.
This was a huge disappointment to me. I really liked Cunningham's debut A Home at the End of the World and I absolutely love The Hours, which I've read three times – each time more fabulous than the other. Then why don't I like his new novel?
Well, for one thing, it bored the shit out of me. My mind kept drifting away from what was happening on the pages. I just didn't care about the story. And Peter was so self-absorbed and whiney that I wanted to scream.
There were a few clever remarks here and there to give some food for thought, but not nearly enough to make up for a slightly dull story.
I think the story is way too thin for a novel – even a short novel like this one. Perhaps it should have been a short story. 50 pages top. And Cunningham could easily have skipped the family backgrounds. And the details from Peter's work: do we really need to read those boring emails and listen in on his phone calls?

By Nightfall handler om Peter og Rebecca Harris, et ægtepar i midten af 40'erne, der har det hele: han er en kunsthandler, hun er redaktør, de er velhavende og bor i New York. Da Rebeccas meget yngre bror, Ethan (alias Mizzy, "The Mistake") ankommer for at bo hos dem midlertidigt, begynder Peter at føle sig tiltrukket af Ethan og hans ungdom. Dybt optaget af ungdom og død, begynder Peter at stille spørgsmålstegn ved alt i sit liv.
Bogen var en stor skuffelse for mig. Jeg kunne virkelig godt lide Cunninghams debutroman, A Home på End of the World, og jeg ELSKER The Hours, som jeg har læst tre gange – hver gang mere fabelagtig end den forrige. Så hvorfor kan jeg ikke lide hans nye roman?
Den kedede mig simpelthen. Min opmærksomhed forsvandt hele tiden fra det, der foregik på siderne. Jeg var ligeglad med historien. Og Peter var så selvoptaget og klynkene at jeg kunne skrige.
Der var et par kloge bemærkninger her og der for at give lidt stof til eftertanke, men ikke nær nok til at kompensere for en ret kedelig historie.
Jeg tror, at historien er alt for tynd til en roman – selv en kort roman som denne. Måske den burde have været en novelle. På maks 50 sider. Og Cunningham kunne nemt have sprunget familiebaggrunden over – det var lidt unødvendigt. Og detaljerne fra Peters arbejde: har vi virkelig brug for at læse de kedelige e-mails og lytte med på hans telefonopkald?
Follow me: Bloglovin * Facebook * Twitter