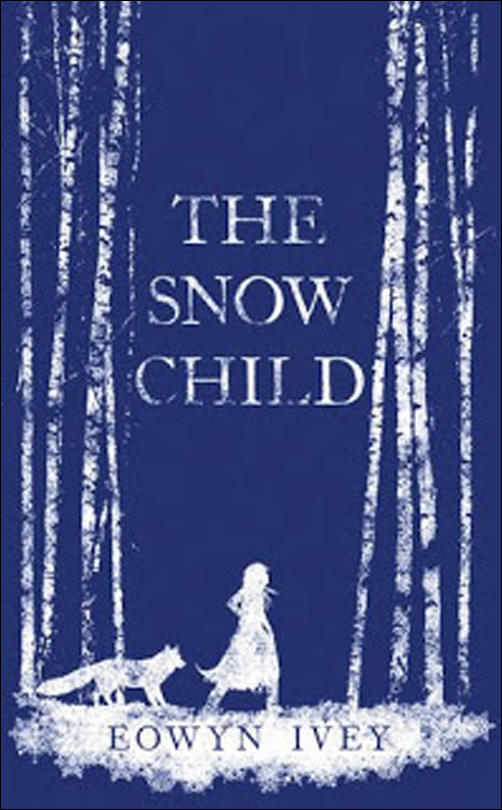 Title: The Snow Child
Author: Eowyn Ivey
First Published: 2012
My Rating: 3 of 5 stars (average rating on Goodreads: 3.97)
Awards: UK National Book Awards for International Author of the Year (2012)
Format: e-book, 423 pages
First Sentence: Mabel had known there would be silence.
It's a bit difficult for me to review this book. As you can read from the first line, the writing is good. The story is quite original: It's about a childless couple, Jack and Mabel, who live secluded in Alaska. They find it difficult to keep up with the daily tasks on the farm. On top of that, they're lonely: they're drifting apart, have no family around them, no friends to see on a regular basis and no neighbors within reasonable reach. One night, they build a snow child. The next morning it's gone, but they see footsteps in the snow leading to the woods. They then start seeing a little girl running through the trees. They come to consider her their own daughter but struggle to understand this strange snow child.
I've never read anything like it. But it still failed to grasp my attention. I just couldn't identify with either Jack or Mabel. Being childless didn't have be the end of their world. They had so many other options, but were just too stubborn to change direction in their lives. They both originally came from the city, lived a life with people around them. They moved to Alaska because they wanted to make it on their own on a farm and start a family. But with no children, their plan just didn't work. And they're too stubborn to come up with a Plan B. So stubborn, that they'd rather die than admit their plan didn't work – the book actually starts with Mabel attempting to commit suicide because she's so lonely and isolated. Instead of coming up with a new plan! I just couldn't help shaking my head at her …
And the entire book was just so dark and gloomy … and cold! I could actually feel the Alaska Cold. But I just didn't enjoy it. Even though it lived up to all my criteria for a great novel.

Det er lidt svært for mig at anmelde denne bog. Som man kan læse fra den første sætning, er den godt skrevet. Historien er ret original: Den handler om et barnløst par, Jack og Mabel, der bor afsondret i Alaska. De har svært ved at holde trit med de daglige opgaver på gården. Derudover er de ensomme: de er gledet fra hinanden, har ingen familie omkring dem, ingen venner til at se regelmæssigt, og ingen naboer inden for en rimelig rækkevidde. En nat bygger de et snebarn. Den næste morgen, er det forsvundet, men de kan se fodspor i sneen, der fører hen til skoven. Derefter begynder de at se en lille pige, der løber rundt mellem træerne. De kommer til at betragte hende som deres egen datter, men har svært ved at forstå dette mærkelige snebarn.
Jeg har aldrig læst noget lignende. Men bogen fangede mig alligevel ikke. Jeg kunne slet ikke identificere sig med Jack og Mabel. At være barnløs behøvede ikke være enden på deres liv. De havde så mange andre muligheder, men var bare alt for stædige til at ændre retning i deres liv. De kom begge fra byen, levede et liv med mennesker omkring dem. De flyttede til Alaska, fordi de ønskede at klare sig på egen hånd, have en gård og stifte familie. Men uden børn fungerede deres plan bare ikke. Og de er begge for stædige til at finde på en plan B. Så stædige, at de hellere vil dø end at indrømme, at deres plan ikke virkede – bogen starter faktisk med, at Mabel forsøger at begå selvmord, fordi hun er så ensom og isoleret. I stedet for at finde på en ny plan! Jeg kunne ikke lade være med at ryste på hovedet af hende …
Og hele bogen var så mørk og dyster … og kold! Jeg kunne mærke Alaska-kulden! Jeg kunne slet ikke nyde bogen. Selvom den egentlig er god og lever op til alle mine kriterier for en god roman.