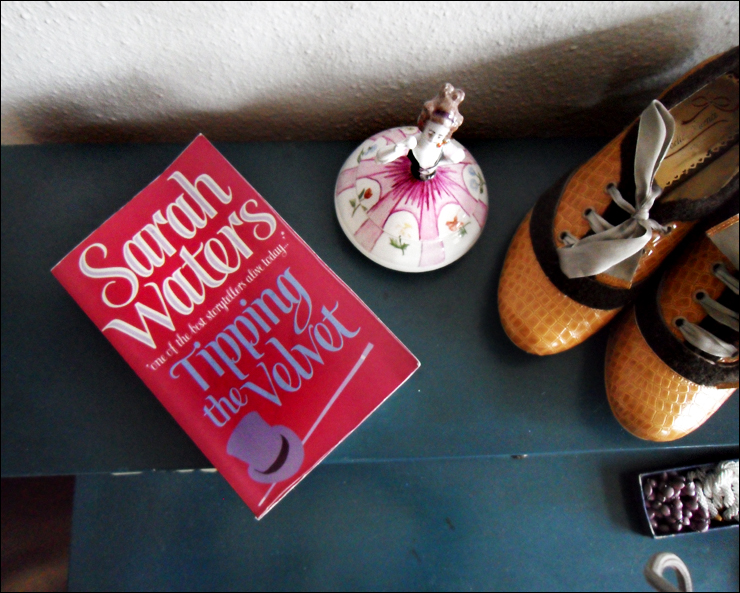 Title: Tipping the Velvet
Author:Sarah Waters
First Published: 1998
My Rating: 5 of 5 stars (average rating on Goodreads: 4.01)
Format: Paperback, 472 pages
First line: Have you ever tasted a Whitstable oyster?

What a story. Late Victorian England: Nan King, a girl from a provincial town, expected to marry someone local and start a family, falls in love with a cross-dressing girl, Kitty Butler, moves to London and becomes a music-hall singer, keeping her love life a secret. Oh, what a story. And this was just the beginning. The story had so many twists and turns and so many amazing characters.
I've given the book 5 out of 5 stars. That doesn't mean that it's perfect. It was perhaps a bit unrealistic from time to time. But somehow that was OK. It just didn't matter to me, as I was so engrossed in the story and the characters. And I would say that it's perfect in what it does: it tells an amazing story. It may not be great art or a brilliant masterpiece. It may not change your world. But it will entertain you. And it did take me away from my own world for a while.

Sikke en historie. Det sen-victorianske England: Nan King, en pige fra en provinsby, som forventes at gifte sig med en af de lokale og få en familie. Hun forelsker sig i en pige i herretøj, Kitty Butler, flytter til London, bliver bliver sanger og holder sit kærlighedsliv hemmeligt. Åh, sikke en historie. Og det her var kun begyndelsen. Historien havde så mange twists og så mange fantastiske karakterer.
Jeg har givet bogen 5 ud af 5 stjerner. Det betyder ikke, at den er perfekt. Den var måske en smule urealistisk fra tid til anden. Men på en måde, der var OK. For mig gjorde det ikke noget, da jeg var så opslugt af historien og karaktererne. Og jeg vil sige, at romanen er perfekt i det den gør: den fortæller en fantastisk historie. Det er ikke være stor kunst eller et strålende mesterværk. Den ændrer ikke din verden. Men den vil bestemt underholde dig. Og den tog mig væk fra min egen verden for en stund.
Follow me: Bloglovin * Facebook * Twitter