This was hell then;
it wasn't anything to worry about:
it was just his own familiar room.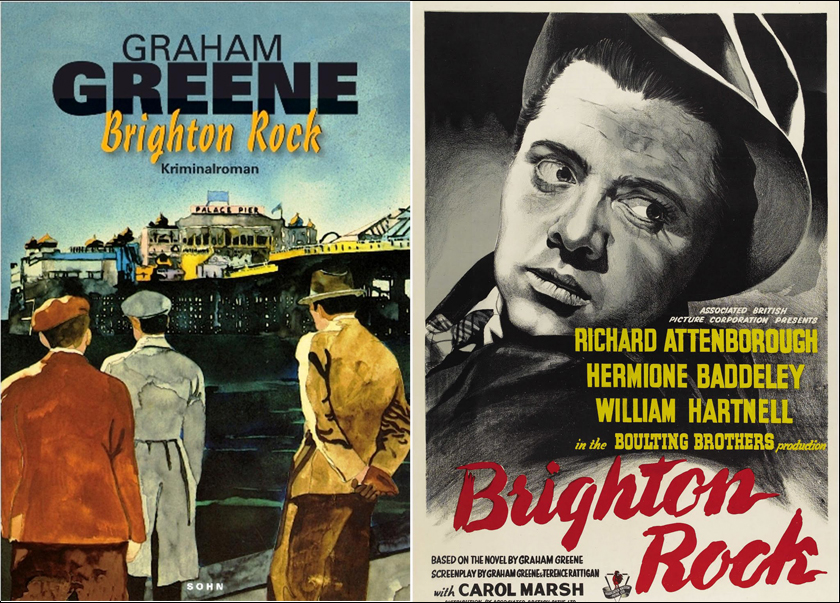 Title: Brighton Rock
Author: Graham Greene
First Published: 1938
My Rating: 4 of 5 stars (average rating on Goodreads: 3.73)
Format: Audio, 9 hours, 9 min
The Beginning: Hale knew, before he had been in Brighton three hours, that they meant to murder him.
Graham Greene's novel from 1938 is nothing short of a masterpiece. It's a classic gangster story: the mob murders a rival and all hell breaks loose. "Blood will have Blood" was true in Shakespeare's 1606 and it's still true in Greene's 1938:
He was like a child with haemophilia: every contact drew blood.
But Greene takes it further than that. Brighton Rock is far from just a gangster story, it's a psychological masterpiece. As the story progresses, we enter the mind of the 17-year-old mob leader, Pinkie, a psychopathic murderer who takes unlimited advantage of Rose, an unfortunate piece in the murder-puzzle. Greene's brilliancy shines here: We hate Pinkie, not just because he's a murderer who tricks the young impressionable Rose into thinking he loves her, but also because of the degrading and cruel way he treats her. He hates her because of what she represents and he can't hide his hatred even as he's courting her. But still we sympathise with Pinkie as we gradually get to know his background:
I'll tell you what life is. It's gaol, it's not knowing where to get some money. Worms and cataract, cancer. You hear 'em shrieking from the upper windows- children being born. It's dying slowly.
He's the classic portrait of a weak character with a rough background growing up hard and evil, murdering as many as it takes to escape his depressing past. Being "forced" to court Rose who reminds him of everything he's tried to escape and pushes him over the edge, makes him even more desperate and afraid.
Rose is the strangest character! She seems sweet, naive and kind-hearted. But as Pinkie is willing to do whatever it takes to escape his past, Rose is willing to do anything for love – even to cover up a murder. I loved the character Ida, a strong woman with a loud laugh who sees it as her duty to serve justice and solve the case, even if the police don't care two hoots. I love this quote where she tries to talk some sense into Rose:
I know one thing you don't. I know the difference between Right and Wrong. They didn't teach you that at school.'
Rose didn't answer; the woman was quite right: the two words meant nothing to her. Their taste was extinguished by stronger foods–Good and Evil.
Ida is the only character in the novel who's got a sense morality and who stays true to her beliefs, and yet she's the only one who's not religious: Both Pinkie and Rose are frustrated, unhappy Catholic sinners.
I went to see the movie (the one from 1949) at Cinemateket with my dad. My expectations were high, as Graham Greene wrote the screenplay himself. It started off very well: The atmosphere of Brighton was perfectly captured, and the casting of Pinkie (Richard Attenborough) and Rose (Hermione Baddeley) couldn't have been better.
People change,' she said.
'Oh, no they don't. Look at me. I've never changed. It's like those sticks of rock: bite it all the way down, you'll still read Brighton. That's human nature.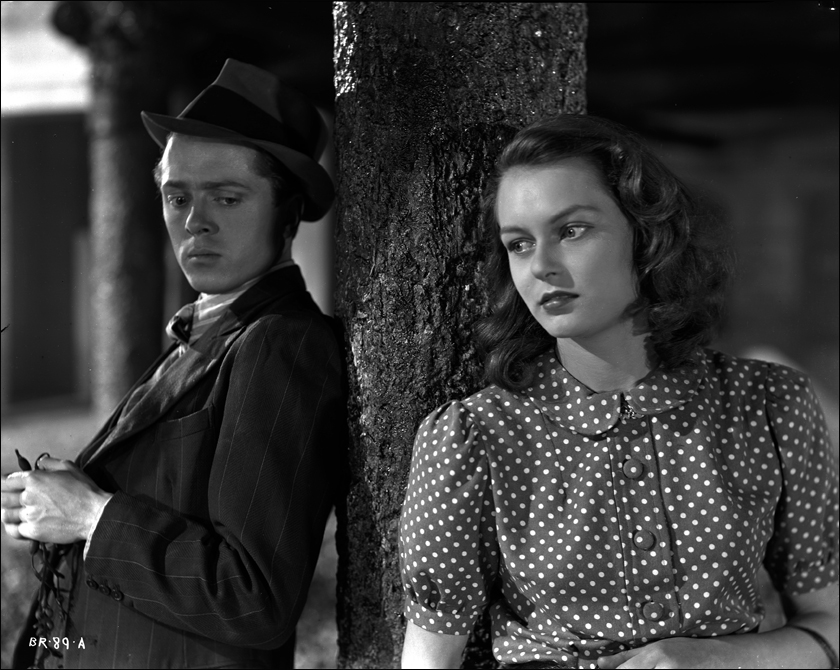 Asides from the atmosphere and the casting, the movie failed somehow. It did nothing but retell the story superficially. The true brilliancy of the novel never came through in the movie. The problem is that much of the story in the novel is Pinkie's inner struggles. I had hoped that Graham Greene would somehow translate this into dialogue or voice-over in some brilliant way. I understand and respect that you have to kill some darlings when turning a book into a movie, but some of the decisions they made were just weird. Instead of portraying Pinkie in greater nuances, they wasted the time on minor, uninteresting characters.
There was one thing I really liked about the movie, though: They changed the end – and made it even better than the one in the book! (at least that's what I think) I won't say what they did as it would spoil the experience, but I can say it has to do with a record recording!