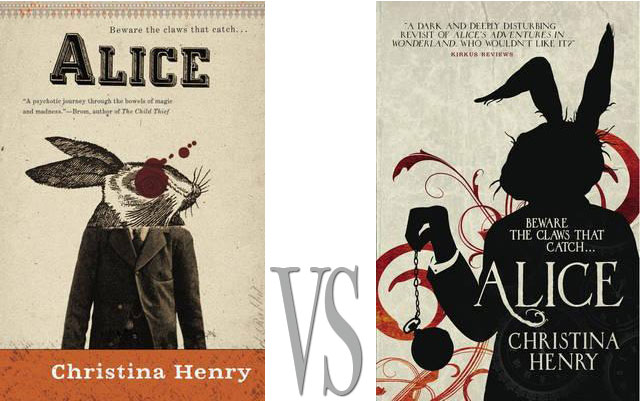 Jeg har bogkøbsstop. Sådan helt seriøst. Jeg har ikke købt bøger siden jeg gik lidt Jane Eyre amok tilbage i juni. Jeg vil tilbage til at have mine tbr-eksemplarer på en enkelt hylde. En stor hylde, men alligevel. Så ingen nye bøger til mig lige foreløbigt. Målet er, at jeg til jul ikke bare skal være nået ned til en hylde – der skal også være plads til firkantede pakker.
Vejen til succes tænker jeg er, at hver gang det kribler i mine fingre for klikke en bog hjem, skal jeg tilføje den min ønskeseddel til jul. En af de bøger er 'Alice' af Christina Henry, som handler om Alice – ja den Alice fra 'Alice i Eventyrland'. Nu er hun blot voksen. Og indlagt på psykiatrisk afdeling. Den lyder SÅ spændende og interessant og jeg vil ha' den!
Den fås i disse to udgaver. Jeg har udførligt skrevet, at jeg ønsker mig den til højre (som faktisk også er væsentligt billigere end den til venstre).
Hvilken udgave ville du vælge?