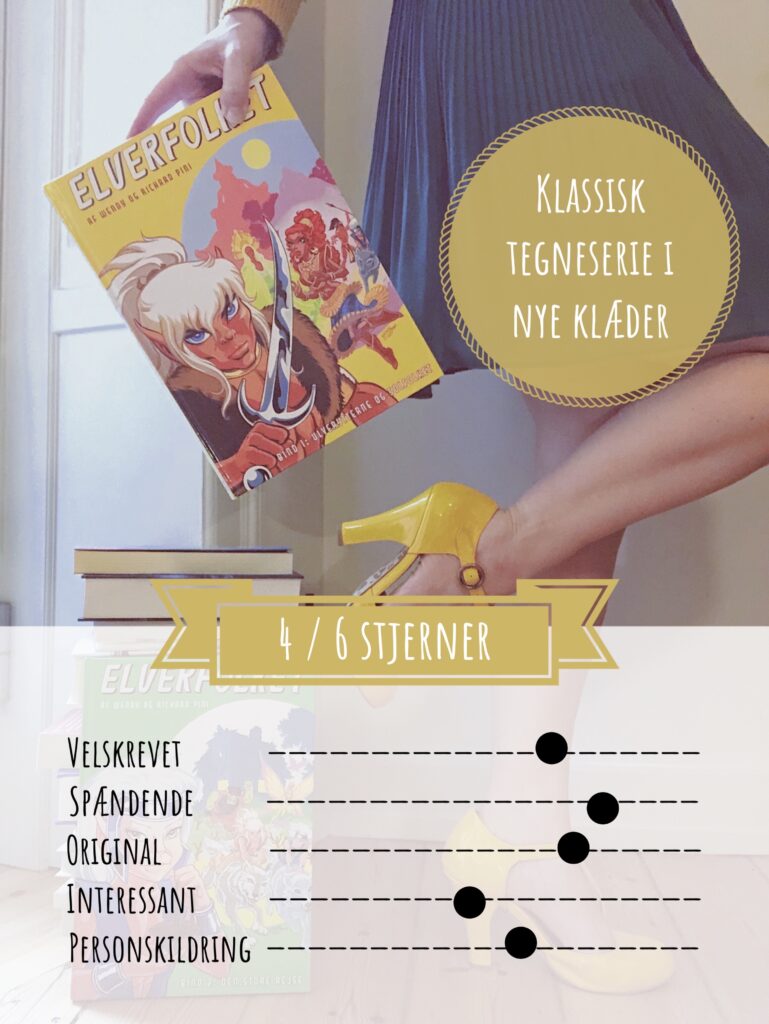 Titel: Elverfolket bind 1-2
Forfatter: Wendy og Richard Pini
Sådan blev bogen min: Anmeldereksemplar fra Forlaget Fahrenheit
Elverfolket var min absolut yndlings tegneserie da jeg var barn. Jeg elskede de flotte tegneserier og det mystiske elver-univers med magi og skønhed. Så jeg var pænt begejstret, da jeg så (på bogblogger.dk) at Forlaget Fahrenheit udgav de her flotte hardbacks med 5 tegneserier i hver, med ny oversættelse, flottere farver og en masse ekstra materiale.
Kort fortalt handler Elverfolket om to meget forskellige stammer af elvere, er lever i en verden, der mindes om vores på et mere primitivt tidspunkt (Stenalderen?). I mange år har hver stamme troet, at de var de eneste elvere i verden. Da deres veje krydses, vækkes deres nysgerrighed for at undersøge, om der findes andre elvere.
Det var en virkelig pragtfuld oplevelse at genlæse Elverfolket. Jeg nød historien og karaktererne præcis som da jeg var barn, men kunne se flere nuancer her som voksen. Det er virkeligt et spændende univers som jeg har lyst til at dyrke endnu mere nu hvor jeg har genbesøgt de første 10 bind.
Farverne er virkelig flotte og det var sjovt med ekstramaterialet. Desværre var der mange fejl i oversættelsen som burde have haft en ekstra korrekturlæsning.
Kan varmt anbefales!