I am thankful for beauty, even when 'tis thrown to me like a bone to a dog.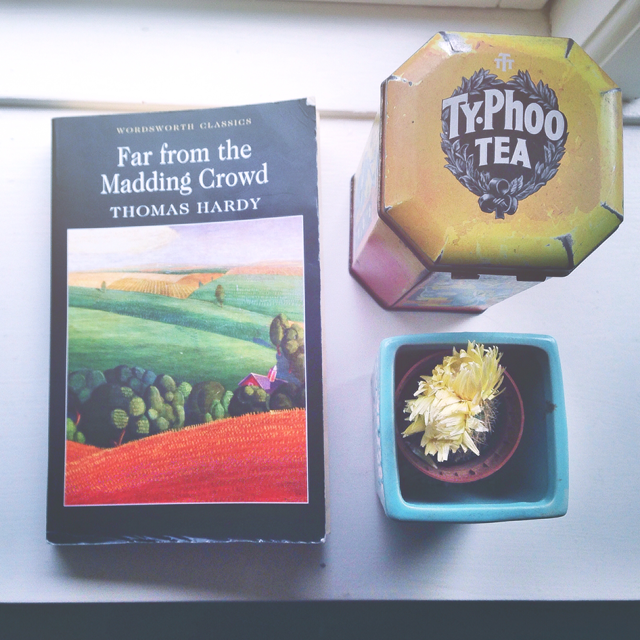 Title: Far from the Madding Crowd
Author: Thomas Hardy
First Published: 1874
My Rating: 3 of 5 stars (average rating on Goodreads: 3.87)
The Beginning: When Farmer Oak smiled, the corners of his mouth spread till they were within an unimportant distance of his ears, his eyes were reduced to chinks, and diverging wrinkles appeared round them, extending upon his countenance like the rays in a rudimentary sketch of the rising sun.
The red thread that carries the reader through Far from the Madding Crowd is the character development of Bathseba, an independent young woman who is pursued by three very different men. I didn't always like her, but admired her as a determined young girl. She has no money and no apparent prospects, but she still claims and values her independence. We follow her as she progresses from rags to riches, from strong independence to fool hearted dependency on a man who doesn't deserve her.
I shouldn't mind being a bride at a wedding, if I could be one without having a husband.
This is my second Thomas Hardy novel, and I feel ambiguous about it. It's one of those stories I adore thinking back to, but which bored me to read. To me it feels like a mix of very interesting and unique characters thrown into a very simply and clichéd plot that reeks like a soap opera, but is toned down with numerous descriptions of the English countryside.
Love is a possible strength in an actual weakness.