The human world is made of stories, not people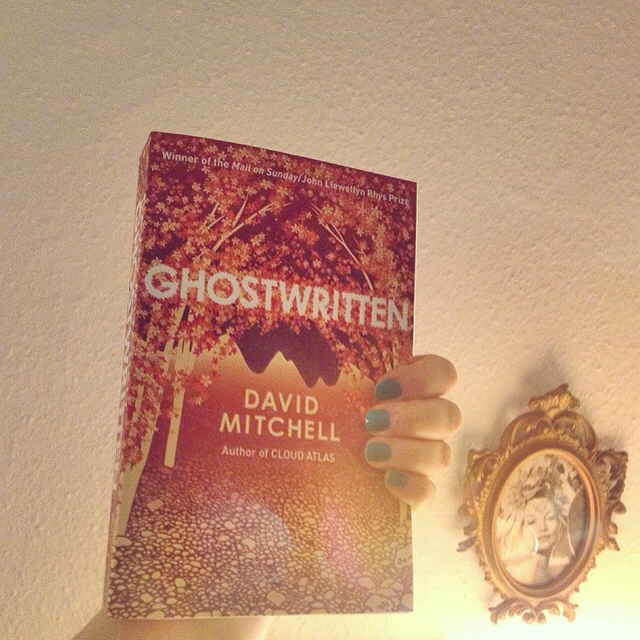 Title: Ghostwritten
Author: David Mitchell
First Published: 1999
My Rating: 3 of 5 stars (average rating on Goodreads: 4.08)
The Beginning: Who was blowing on the nape of my neck?
After just a few pages of this book, I was excited beyond words. It was finally here, my next 5-starred read! I knew it was meant to be. I would have married this book on the spot. I'm glad I didn't, though, because the honeymoon was over before I knew what had hit me.
Real things had happened to her to make her how she was, and I wanted to know them, and read them, like a book.
Ghostwritten is a novel, but contains several stories where the characters briefly touch the lives of characters from the other stories. It's light touches with great consequences. I loved this concept. And I absolutely loved the first two stories. So I settled deeper into my couch, ready to devour more. The third story was quite good, but nothing compared to the first two. And then it just went downhill.
I enjoyed about half of the stories, but the rest of them were a real struggle to get through. I honestly don't know what went wrong. It is a very well crafted novel, and Mitchell sure can write. I was amazed by his change of writing style with each story. But still, something seemed to be missing. I respect and admire this book, but it wasn't for me. And I felt let down after such a brilliant start.
But I'm definitely not done with David Mitchell. He's obviously very talented and I wouldn't hesitate to try reading another book by him.