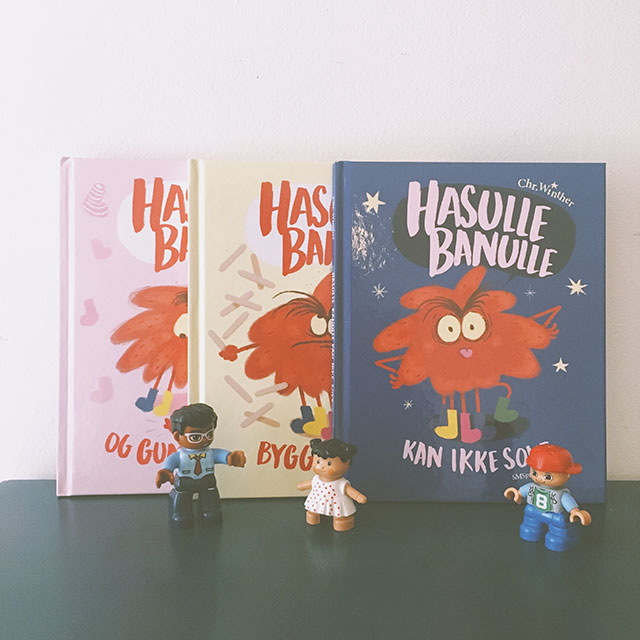 Titel: Hasulle Banulle og gummistøvlen, Hasulle Banulle bygger hule og Hasulle Banulle kan ikke sove
Forfatter: Chr. Winther
Sådan blev bogen min: anmeldereksemplar fra forfatteren
En sjov børnebogsserie til dig, der altid har syntes, at Animal fra Muppet Show var the shit.
Det er sjældent, at jeg er så begejstret for en børnebog, at jeg giver den 6 stjerner. Men denne lille serie er så fin og enkel, anderledes og skør, at jeg ikke kan andet end at elske den.
Den handler om et lille væsen, der bor i en mobillast og balrer ind i forskellige hverdagsproblemer: min hule er ikke sej nok, jeg har tabt min gummistøvle eller jeg kan ikke sove. Alt sammen helt almindelige problemer.
Det, der gør Hasulle Banulle anderledes, er Hasulles problemløsning. Han stjæler med arme og ben for at få det han vil have, er flabet, vild, larmende, provokerende og vanvittig. Og både mig og Edith er vilde med ham. Når ting bliver væk, er Edith overbevist om, at det er Hasulle Banulle, der har været på spil. Seriøst, Hasulle – vi vil gerne have Ediths prinsesse-sutsko tilbage!
Bøgerne er rigtig gode: de er skrevet enkelt og humoristisk, illustrationerne er sjove i al deres enkelthed og de indeholder alle en befriende uartighed som ellers kun Animal fra Muppet Show kan slippe afsted med. Der er ingen løftede pegefingre, ingen morale. Og det er befriende.
Jeg er fan.