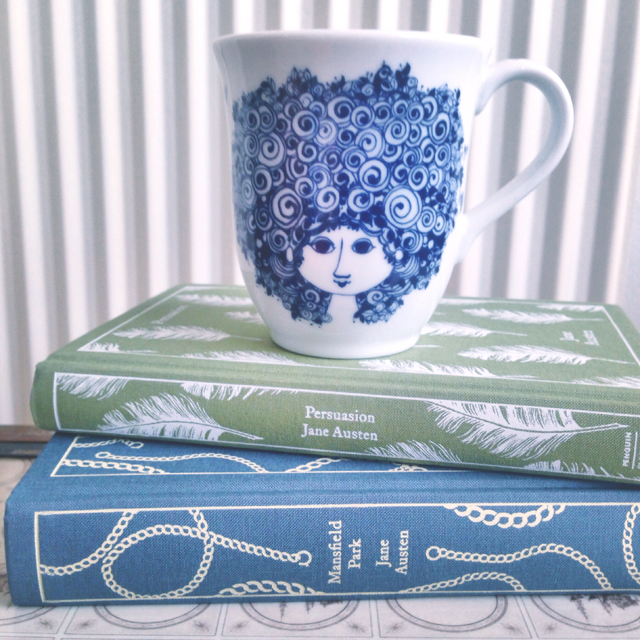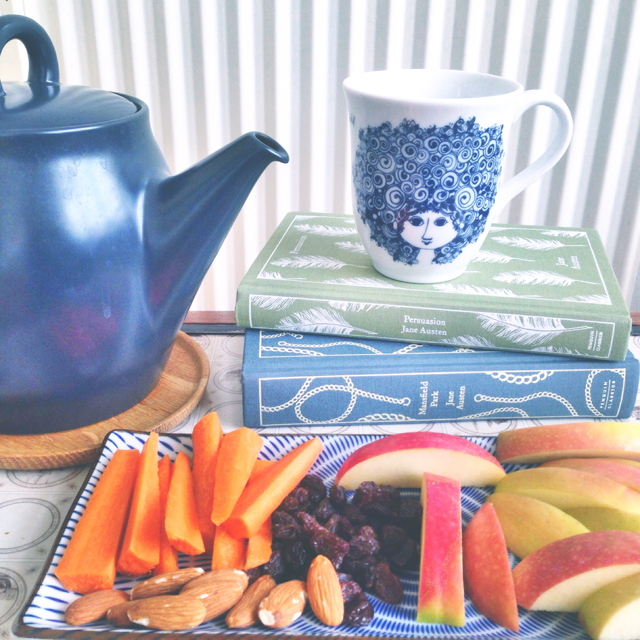 14:01
The day and hour has finally arrived: it's time for my very first readathon. I've spent my morning getting ready – i.e. buying candy and thinking about books. The tea is brewed, I've prepared some healthy snacks (I'm saving the unhealthy stuff for later) and settled myself on the couch in our kitchen: I'm finally ready to dive into Jane Austen's world. I'll update regularly and will follow the progress of other readers. Let's get started! Persuasion, here we go …
19:03
Status: I've read 76 pages (I'm a slooow reader), had lunch, four cups of tea, done a bit of laundry and checked up on a thousand other bloggers' reading progress.
Oh, this is such a cozy event! I'm having a brilliant time with Persuasion – I feel like reading on and on and on … These characters are horrible! I literally shake my head every other page. I don't remember much from when I read it 10 years ago. I remember how it ended and something about a picnic …
"It is over! it is all over!" she repeated to herself again, and again, in nervous gratitude. "The worst is over!"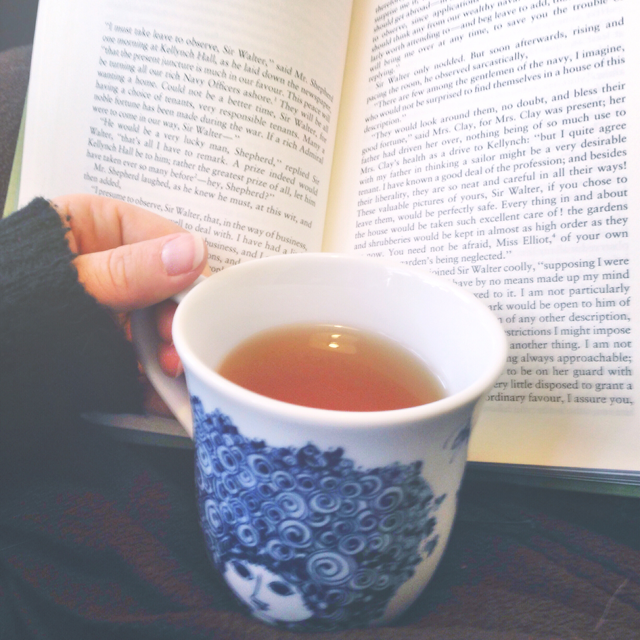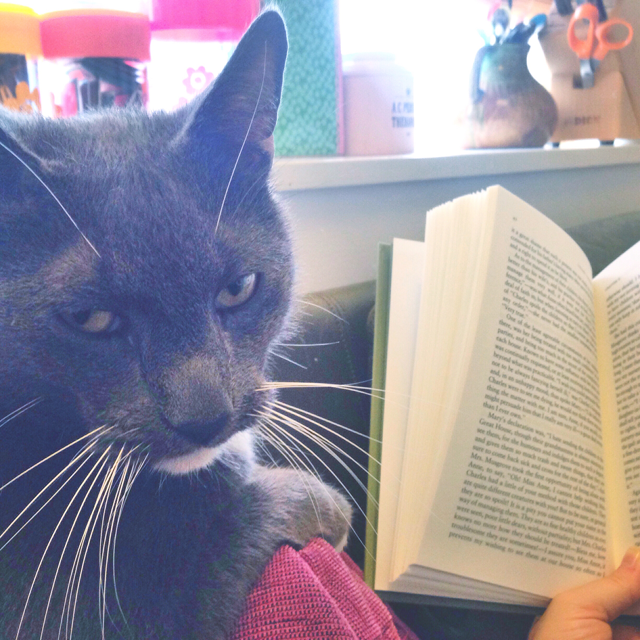 21:45
Had homemade sandwiches for dinner. It's the perfect meal if you wish to read or blog whilst eating. Bonus info: did you know that the sandwich was invented by the Earl of Sandwich? He needed a snack for him and his buddies while gambling, and asked his butler to make something you could eat with one hand AND without getting your hands dirty. So the butler invented the sandwich – and the Earl of Sandwich got all the credit. True story! Back to Jane Austen …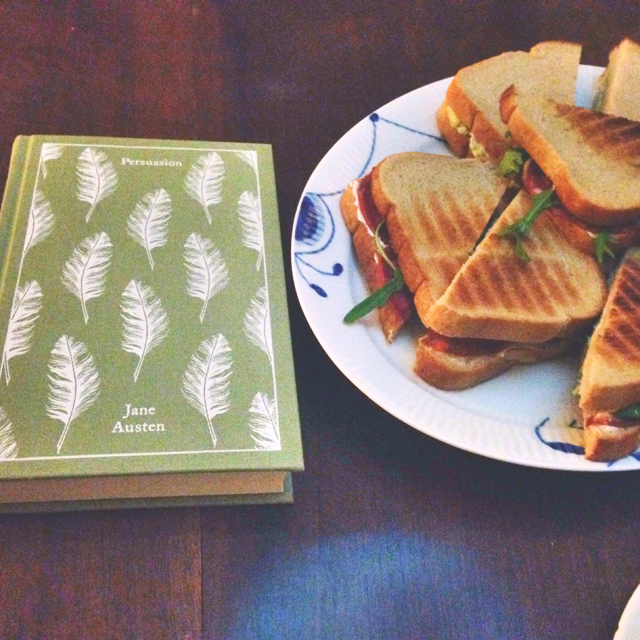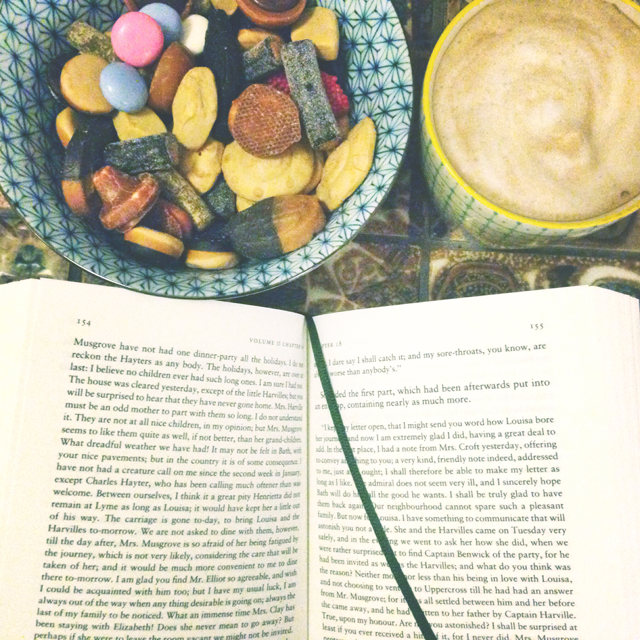 02:15
With the help of coffee and candy, I've turned the last page of Persuasion. A sweet and beautiful story and an excellent companion for the last 12 hours. Now I can barely keep my eyes open. Will crawl into bed. Goodnight!
10:37
I woke up around 8am, made a cup of tea, went back to bed and started Mansfield Park. Now I've had a nice breakfast (banana pancakes and berries) and is ready to dive back into Jane Austen's universe.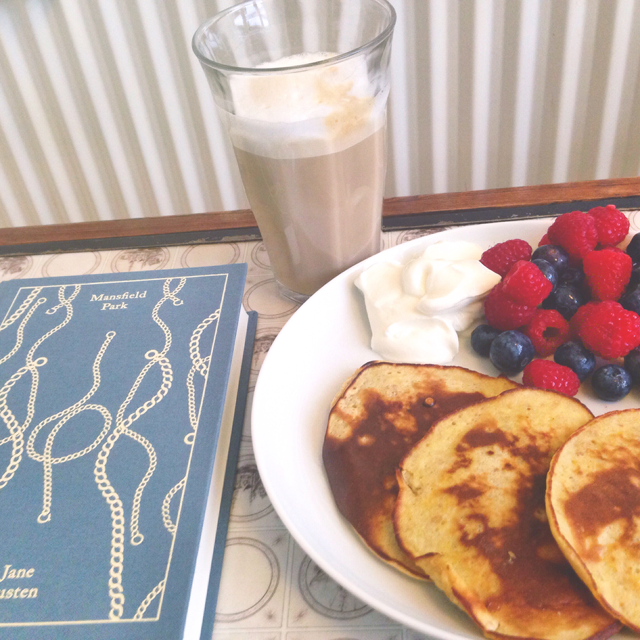 14:04
Wait, it's already over??? But I'm only 100 pages into Mansfield Park! What am I supposed to do now that it's all over? It feels kind of empty … like I can't remember what I usually do when I don't read …
I managed to read 335 pages of Jane Austen, which for my standard is pretty good – I don't think I've ever read more than 100-150 pages a day. The two Jane Austen novels were very different but both have that Jane Austen-feeling I've craved for weeks. For the past hour or so, I switched to the audio version because I felt like knitting. It's been a blast doing the readathon! It's such a treat to read, blog about reading and follow other readers. I hope so very much I'll be able to join again next time!
Thanks for all the support – see you soon 🙂