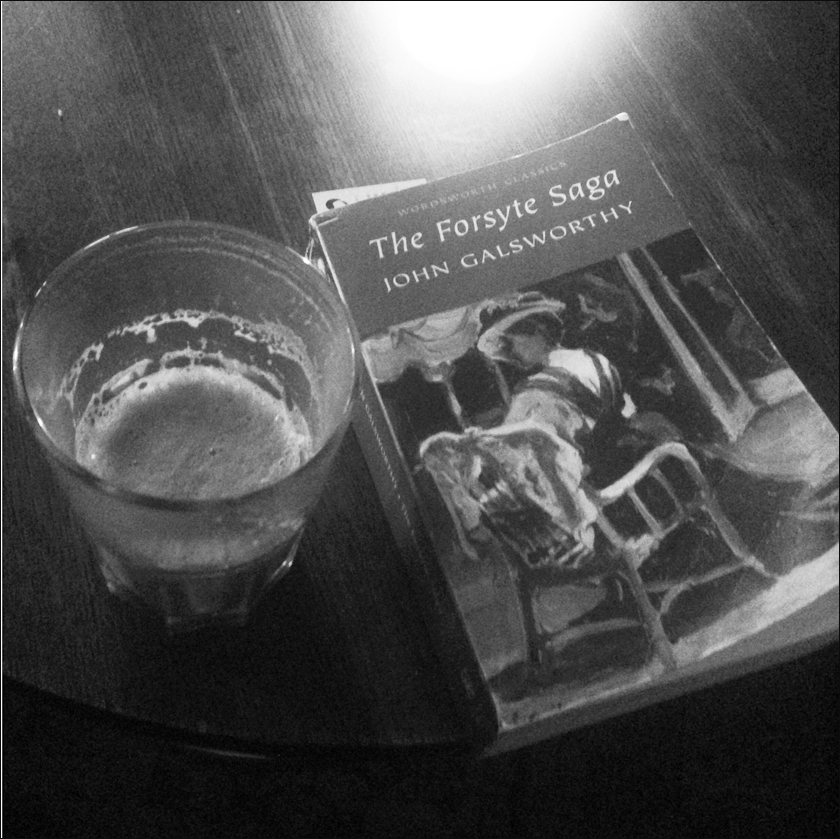 Before we lived together, Mr. Boyfriend and I had this tradition. After my dance class, I would go to a café near his apartment and study, and he would come pick me up when he'd finished work. It was brilliant. He didn't have to stress about being ready at a particular point in time, and I could get some time alone (I need that a lot). After I graduated, got a job and we moved in together, our little tradition became a thing of the past.
We often talk about how cozy it was, and yesterday we decided to do it again – only this time, we would stay and eat at the café. Our choice fell on The Living Room. It's a very cozy café with comfy chairs and couches, perfect for hours of reading. But what really won me over, was their tea with fresh sprigs of mint – yum! They were so delicious, I had two. The food, however, wasn't any good. But I'm definitely visiting again for quality reading with amazing tea.
I'm currently reading The Forsyte Saga, which I actually started months ago, but I had to take a break from it for other group reads and because it was too heavy to bring with me on vacation. It's one of those books that require that you read huge chunks at the time in order to enjoy it properly – a few pages here and there won't do. So it was perfect for the occasion. I find it difficult to concentrate on reading when I come home from work, but if I go to a café, it's no problem! Don't ask me why!