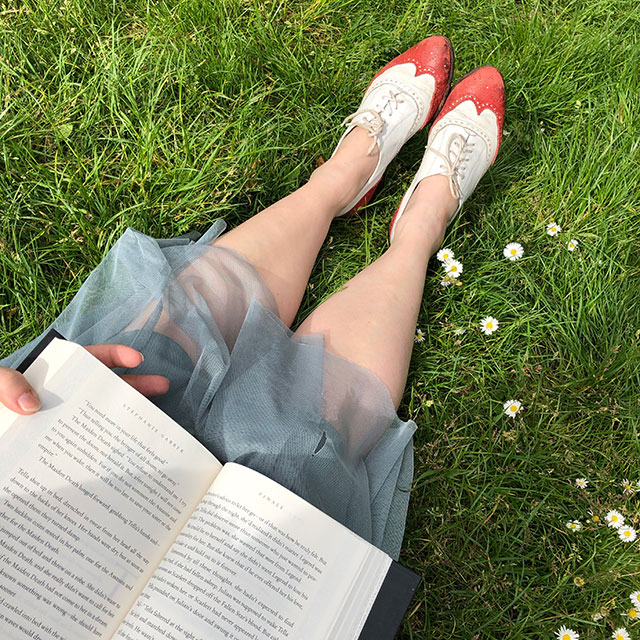 Det er rart at have ro, når man skal læse, men jeg holder også af at have en let summen af mennesker omkring mig, når jeg skal læse. Jeg holder fx meget af at læse på café som dem der følger med på Instagram måske har observeret.
Billedet her er dog taget i vores gård, som er et af mine andre yndlings læsesteder. Her er masser af små grønne kroge, hvor man kan læse i ro – nogle gange glemmer jeg lidt, at jeg befinder mig få meter fra Nørrebrogade, fordi her er så stille og idyllisk.
Jeg er generelt glad for at bruge byen som læsested. Derfor blev jeg ret begejstret da Hovedbiblioteket spurgte, om jeg ville være med til at støtte deres kampagne Byens Bedste Læsested.
Her i juni kører Københavns biblioteker en sjov konkurrence, der går ud på at bruge København som læsested og dele sin læseoplevelse på Instagram med #byensbedstelæsested. Vinderen får en litterær goodiebag med gavekort til værdi 1.000 kr.
Vind en litterær godtepose
Billede: Tag et billede, der hylder bogen, læseoplevelsen og et særligt sted i København. Billedet skal være nyt og taget udendørs/i det offentlige rum i eller omkring København.
Tekst: Skriv en kort billedtekst om, hvilken bog, du læser og hvor i byen du læser. Det kan både være en papirbog, e-bog eller lydbog.
Hashtag: Tilføj både hashtagget #byensbedstelæsested og tagget @hovedbiblioteket og post dit billede på Instagram eller i Instagram Stories.
NB: Du skal have en offentlig profil for at deltage.
Konkurrenceperiode: Den 1. – 28. juni 2019
Jeg sidder i juryen sammen med bloggerne på Mellem Linjerne og Bøger på stribe og jeg glæder mig rigtig meget til at se alle de bileder, der forhåbentlig bliver postet den næste måneds tid.
Men hvad skal du læse?
Hvis du mangler lidt inspiration til din sommerlæsning, kan du kigge forbi min anbefalingsside her på bloggen, hvor jeg anbefaler bøger efter tema og genre. Du kan også se de seks bøger jeg glæder mig allermest til at læse i løbet af sommeren.
Hvis du vil have lidt inspiration til, hvordan du kan bruge byen som læsested, så har jeg skrevet et par artikler for Hovedbiblioteket om det: Derfor bruger jeg byen som læsested og Tag på læse-date.
God læselyst!