Hell is the absence of the people you long for.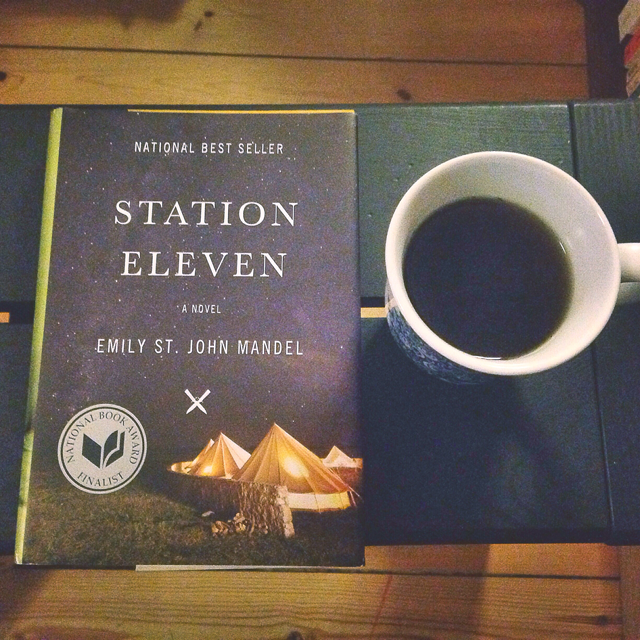 Title: Station Eleven
Author: Emily St. John Mandel
First Published: 2014
My Rating: 5 of 5 stars (average rating on Goodreads: 4.05)
I would recommend this book to: Anyone looking for a different dystopia.
The Beginning: The king stood in a pool of blue light, unmoored.
This was unlike any other dystopia novel I've ever read. And I welcomed the change. An influenca pandemic has spread throughout the world and has wiped out civilization. Only a small percentage survives. We follow a handful of characters 15-20 years before the flu and 15-20 years after.
Station Eleven was untraditional in that it didn't focus on the apocalypse and the time right after where people struggle to survive. I was at first disappointed because I usually love that part. But quickly pleasantly surprised. Station Eleven isn't that much about how you survive, but more about how you live your life after surviving.
We follow a traveling symphony orchestra that plays music and performs Shakespeare in towns they encounter on their way. I loved that music and storytelling had found a way to exist in a terrible situation; that art survived even though society has collapsed.
What was lost in the collapse: almost everything, almost everyone, but there is still such beauty. Twilight in the altered world, a performance of A Midsummer Night's Dream in a parking lot.
I recently posted a picture of Station Eleven on Instagram, and someone commented that this was one of the rare books that were thoughtful, well-written and still a page-turner. And I have to agree: it is all those things. I read it very quickly over the weekend because I had to get ready for a Google Hangout with the author, and it was an amazing reading experience. I was completely lost in this world and I couldn't shake it of again after I'd finished the book.
So there it is: my first 5-starred read of 2015.
Sometimes the traveling symphony thought that what they were doing was noble. There were moments around campfires when someone would say something invigorating about the importance of art, and everyone would find it easier to sleep that night.
I was lucky enough to participate in a Google Hangout with the author, Emily St. John Mandel, hosted by Mashable. It was such an amazing experience! She was so sweet and smart to talk to. I was really nervous and I think it shows a bit in the video. It's absolutely horrible to watch and hear yourself in a video. Do I really talk like that??? Apparently I've got this awful fake wanna-be British accent! I have no idea where it came from!
But it was a fun experience! I mean, how often do you get to chat with the author of a book you love? Here's the video – enjoy!