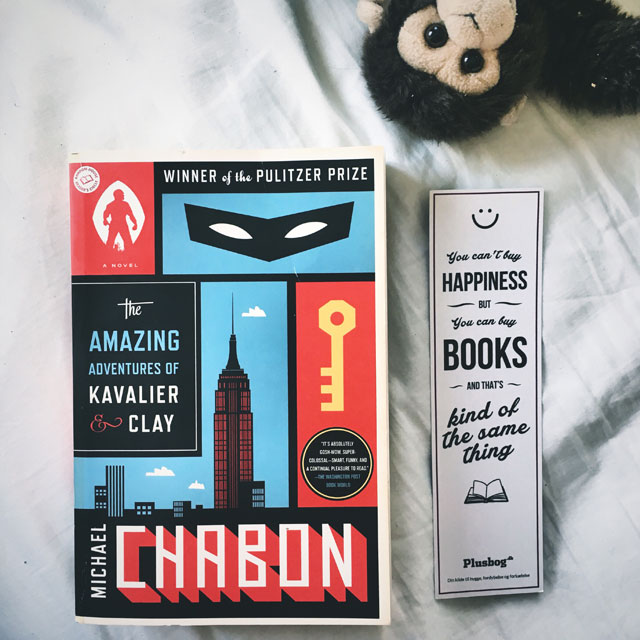 Titel: The Amazing Adventures of Kavalier & Clay
Forfatter: Michael Chabon
Først udgivet: 2000
Antal sider: 678
4 af 5 stjerner
En anbefalelsesværdig og unik roman om skaberne af en tegneseriehelt, der jagter nazister.
Den jødiske tryllekunstner, Joe Kavalier, flygter til New York i 1939. Han flytter ind hos sin fætter, Sammy Clay. Sammen skaber de en fantastisk tegneserie om helten The Escapist, der sparker nazi-røv. Vi følger deres venskab, karriere, kærlighedsforhold og Joes længsel efter at gense sin familie.
We have the idea that our hearts, once broken, scar over with an indestructible tissue that prevents their ever breaking again in quite the same place
TAAOK&C er en yderst unik roman. Jeg er helt vild med konceptet, persongalleriet er troværdigt og interessant. Og så er den velskrevet. Dog mistede jeg koncentrationen hist og her. Jeg lyttede til den som lydbog, og måtte ofte liiige springe et kapitel eller to tilbage, fordi jeg opdagede, at jeg var tunet ud. Den var nemlig lidt langtrukken ind imellem, men alligevel var jeg utroligt grebet af historien og tænker allerede på, hvornår jeg kan læse den igen.
Der er rygter om, at den bliver lavet som TV-serie, hvilket jeg er meget begejstret for – tror, at den ville fungere rigtig godt på skærm.