I've always looked on criticism as a sort of envious tribute.
– Gloria Patch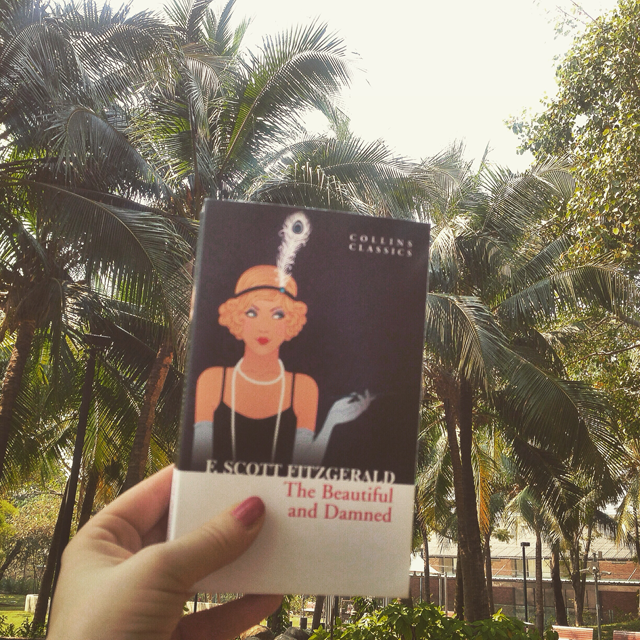 Title: The Beautiful and Damned
Author: F. Scott Fitzgerald
First Published: 1922
My Rating: 5 of 5 stars (average rating on Goodreads: 3.75)
I would recommend this book to: Anyone who enjoys beautiful writing and rich bitches.
The Dandy, Anthony Patch, falls in love with the most sought-out girl: the beautiful and aloof Gloria. They marry and become the it couple everyone wants to be with. Their nights are full of champagne and parties, and the days are spent in idleness, waiting for the next party to fill the void. Anthony's inheritance is endangered because of their wildness. What now? They can't imagine a life without luxury. Nor is Anthony capable of holding on to a job.
The Beautiful and Damned was an incredible reading experience. Fitzgerald's craftsmanship has always impressed me, but this time it took my breath away. The writing was so beautiful that it took me ages to read this book. I turned the pages carefully and read passages over and over again, devouring each word like a delicious piece of chocolate. Some parts demanded to be read aloud.
They were stars on this stage, each playing to an audience of two: the passion of their pretense created the actuality.
I loved Fitzgerald's depiction of the Lost Generation. The clash between the wild nights and the empty days fascinated me. The weird characters who think luxury is a birth right but cannot degrade themselves to take a job were brilliantly described. I also wanted to slap them out of their idleness. Get a hobby, you morons! Get excited about real things in life and not just fleeting things like champagne and beauty. In other words, Grow Up!
I want to marry Anthony, because husbands are so often 'husbands' and I must marry a lover.
The character Gloria amazed me. The way she was introduced as an almost supernatural Goddess was so cleverly done. I've been curious about her ever since reading the novel about Zelda Fitzgerald who was often compared to Gloria. In Z: A Novel of Zelda Fitzgerald, we even get to see Zelda posing as Gloria, giving interviews as the character.
Marriage was created not to be a background but to need one. Mine is going to be outstanding. It can't, shan't be the setting – it's going to be the performance, the live, lovely, glamorous performance, and the world shall be the scenery.