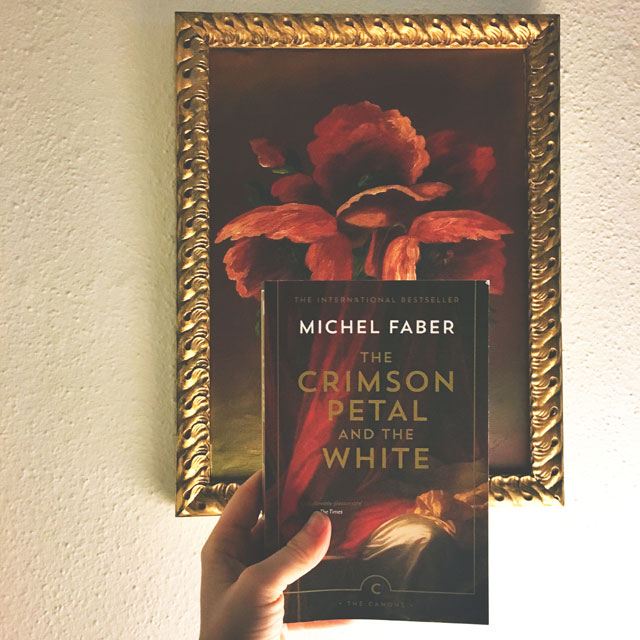 Titel: The Crimson Petal and the White
Forfatter: Michel Faber
Først udgivet: 2002
Jeg vil anbefale bogen til: Dig, der interesserer dig for klasse og køn i det Victorianske London.
Sådan starter den: Watch your step.
4 af 5 stjerner
En Victoriansk roman med en moderne fortæller – bagsiden af Charles Dickens bliver den også kaldt.
I 'The Crimson Petal and the White' (TCPATW) kommer vi vidt omkring i det Viktorianske London. Fra en prostituerets soveværelse til et selskab hos overklassen. Fra kirken til et bordel. William, en respekttabel gentleman med familie, fascineres af Sugar, en atypisk prostitueret. Han betages og besættes, og hun griber den hånd, der kan trække hende bort fra det liv hun er tvunget ind i. Hendes liv ændres drastisk, men kan hun fastholde sin nye position?
Jeg har mange modstridende følelser for denne mobbedreng. Noget af det første jeg bemærkede var dens usædvanlige skrivestil. Det er både dens svaghed og styrke. Man får serveret mange ulækre, kropslige detaljer. Hvor Victoriansk litteratur sjældent har kroppen med – udover en malende beskrivelse af fx en kvindes figur – svælger TCPATW i gustne detaljer om prostitueredes hygiejne, gynækologiske undersøgelser, menstruation, afføring, sex, beskidte lagener, fodsved osv. Den del af livet i det Victorianske England er altid blevet skjult for os i litteraturen, men den bliver her tværet ud i hovedet på os. Det var på sin vis forfriskende. Men også ret ulækkert. Og det blev lidt trættende i længden.
Det, der bærer romanen er persongalleriet. Vi har Sugar: en intelligent og belæst prostitueret med forfatterambitioner, der gør hvad hun kan for at finde en lille bid lykke i det rådne liv skæbnen har tildelt hende. Vi har William: en egocentreret rig mand, der ser kvinder som objekter, der er sat i verden for at gøre ham tilfreds. Agnes: Williams tragiske kone, der lever et sølle liv i uvidenhed som en sindssyg. Hele sit liv har hun været beskyttet mod det skamfulde – til den grad, at hun ikke ved, hvor babyer kommer fra og hvorfor hun bløder en gang om måneden. Sophie: En lille pige, der er fremmedgjort af sin distancerede mor, der dårligt har anerkendt hendes eksistens, og af sin far, der for det meste virker ligeglad. Så er der fulderikker, der udgiver smuds-litteratur, en religiøs mand, der vil redde verden, og en kvinde, der vil hjælpe prostituerede.
Det er længe side, at jeg har læst en bog, hvor jeg var så følelsesmæssigt engageret. For det meste fandt jeg plottet spændende og originalt – jeg anede virkelig ikke, hvad historien ville ende med før alle 800+ sider var vendt. Dog fandt jeg til tider også bogen en smule langtrukken. Og skrivestilen irriterede mig. Vi har en fortæller, der blander sig lige lovligt meget efter min smag. Men ellers en roman jeg ville anbefale til de fleste.