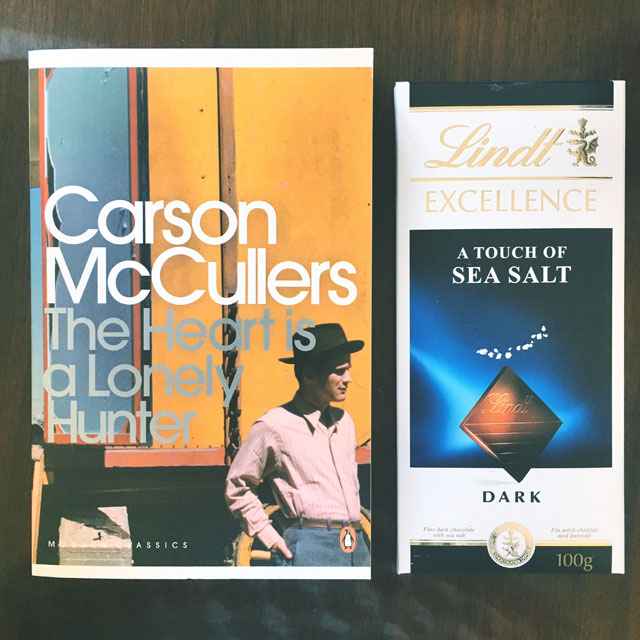 The most fatal thing a man can do is try to stand alone.
Titel: The Heart is a Lonely Hunter
Forfatter: Carson McCullers
Først udgivet: 1940
Jeg vil anbefale bogen til: Alle med interesse for amerikansk litteratur. ALLE!
Sådan starter den: In the town there were two mutes, and they were always together.
4 af 5 stjerner
Vi befinder os i en lille by i Sydstaterne. Her bor den døv-stumme outsider John Singer. Vi følger menneskene omkring ham, der alle drages af ham: en ensom og godhjertet caféejer, en musikalsk ung pige, der prøver at finde sin plads i tilværelsen, en alkoholiker og en læge, hvis liv er præget af racisme.
I want – I want – I want – was all that she could think about – but just what this real want was she did not know.
'The Heart is a Lonely Hunter' er et ufatteligt velskrevet og hjerteskærende lille værk. Fyldt med humor, sørgmodighed og en menneskeindsigt man sjældent ser lige. Historien var lidt lang tid om at komme i gang, men så kom den også efter det! Fantastisk persongalleri, utroligt velskrevet og så fine historier, der knuser ens hjerte – what's not to love?
Maybe when people longed for a thing that bad the longing made them trust in anything that might give it to them.
Dette var min første McCullers roman, men jeg skal helt klart læse flere af hendes bøger.