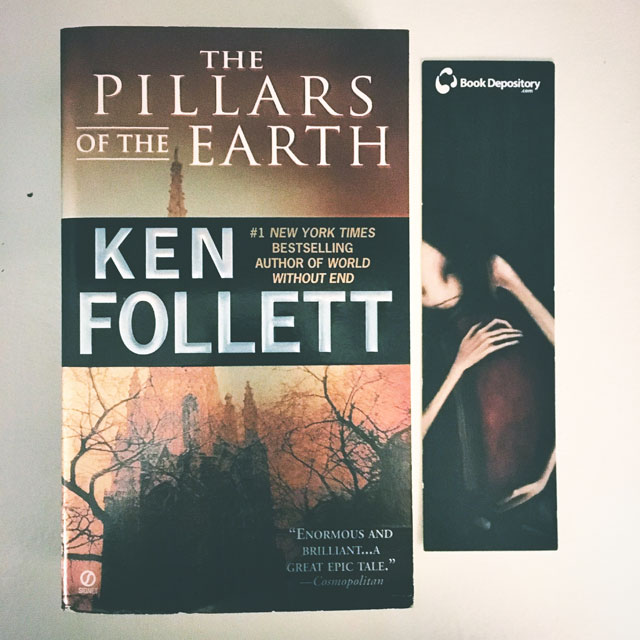 Titel: The Pillars of the Earth
Forfatter: Ken Follett
Først udgivet: 1989
Jeg vil anbefale bogen til: Dig, der er til store page-turners
Sådan starter den: The small boys came early to the hanging.
3 af 5 stjerner
England i Middelalderen: en historie om magt, ondskab, kærlighed, begær, jalousi, lidenskab – alt sammen kædet sammen omkring en katedrals skabelse. Plottet er spændende og historierne er virkelig gode. Dog havde jeg en del problemer med bogen.
For det første brød jeg mg ikke om den måde den var skrevet. Follett overforklarer sine karakterers handlinger til døde. Som i "han slog hende ihjel, for han var jo et ondt menneske". Desuden virkede en del af karaktererne utroværdige. Det var ikke altid jeg købte deres handlinger og valg i livet. Det virkede til tider som om deres handlinger var styret af den vej Follett ville have plottet, og ikke ægte beslutninger.
She loved him because he had brought her back to life. She had been like a caterpillar in a cocoon, and he had drawn her out and shown her that she was a butterfly.
Men alligevel som sagt en god rigtig god historie som jeg hyggede mig gevaldigt med. Jeg tror, at Ken Follett er en forfatter jeg kommer til at stifte bekendtskab med flere gange.