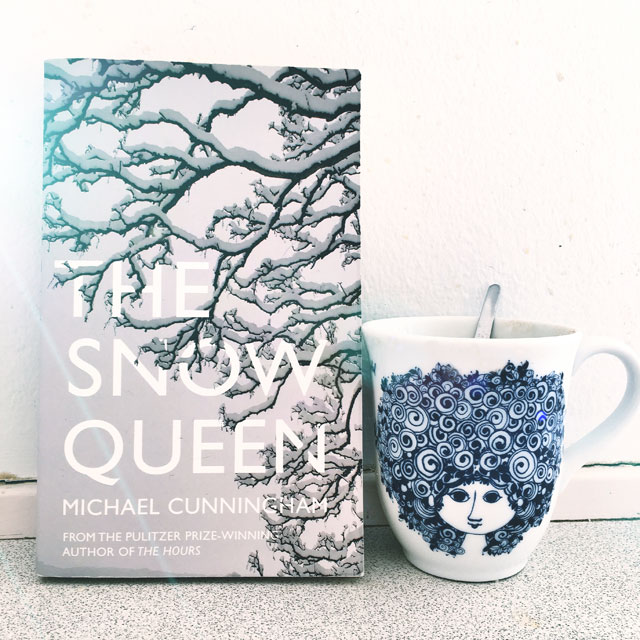 This review is also available in English
Titel: The Snow Queen
Forfatter: Michael Cunningham
Først udgivet: 2014
4/5 stjerner
På vej gennem Central Park, efter at være blevet dumpet på sms, ser Barrett lyset. Bogstavelig talt et lys på himlen, uden forklaring. Barrett er ikke religiøs og tror ikke på magi, men han så hvad han så. Samtidig arbejder hans bror, Tyler, på at skrive en sang til sin forlovede, Beth, der er ved at dø af kræft. De er et uadskilleligt trekløver uden plads til meget magi i deres liv. Men et mirakel maser sig ind for en stund og ændrer deres liv. Handlingen springer fra vinter til vinter over et par år, og sne danner en smuk og eventyrlig baggrund for handlingen. Både sne, som i 'hvide fnug, der daler fra himlen', og sne, som i hvidt pulver, der forsvinder op i næsen.
'The Snow Queen' er en sær lille fortælling, et glimt af en håndfuld menneskers liv. Den er smukt skrevet. Michael Cunninghams nærmest poetiske stil gør hver side til noget helt specielt. Og så kender han hver enkelt kringlede og krogede sti i sine karakterers tanker, alle deres skyggesider og mærkværdigheder.
We need to be the grandest possible versions of ourselves, we need to walk across the face of the earth with as much grace and beauty as we can muster before we're wrapped in our winding sheets, and returned.
Og en sjov lille trivia: 'The Snow Queen' blev nomineret til 'Bad sex in fiction awards' – tænk, at der findes sådan en pris 😀
Music is the familiar strangeness of night visions.