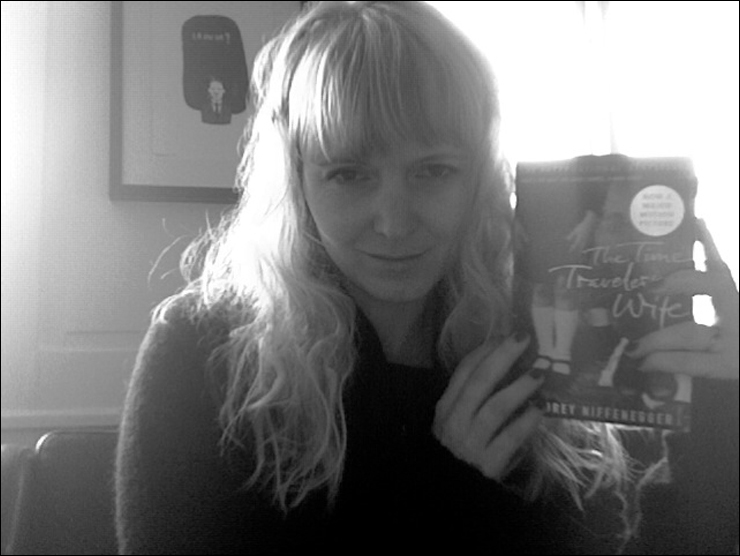 The Time Traveler's Wife by Audrey Niffenegger
My rating: 5 of 5 stars
Wow! Sikke en fantastisk bog! Jeg uddeler sjældent 5 stjerner, men efter ganske få sider kunne jeg mærke, at denne bog ville være en af de få. Jeg var fuldstændigt grebet af den. På den ene side er den meget enkel og klassisk i sin fremstilling af forhold mellem mennesker, om det så er venskaber, elskere, livsledsagere, børn … og så gør tidsrejse-elementet den så unik. Jeg var lidt i tvivl om, hvad jeg synes om tidsrejse-temaet før jeg gik i gang med bogen, men jeg elskede den del lige fra starten! Det twistede det hele og udfordrede den traditionelle måde at læse en historie.
Al den springen rundt i tid kunne meget nemt have været forvirrende, men det var det ikke, det var så knivskarpt skrevet! Rejserne tilbage i tiden gjorde en nærmest ordinær fortælling meget mere original, sjov og rørende. Jeg var ved at dø af grin da Henry hjalp en yngre udgave af ham selv – SÅ humoristisk! Og ville vi ikke alle elske at rejse tilbage i tiden og vejlede en selv som yngre?
Besøgene i fremtiden gjorde bogen en anelse skræmmende. Jeg ønskede, at Henry holdt sig for øjnene og ikke så noget som helst. Men på den anden side, så var der et afsnitt på et museum (jeg vil ikke afsløre, hvad der sker) som var noget af det mest rørende jeg længe har læst.
Jeg har ikke en eneste negativ ting at sige om denne bog – og jeg kan ellers næsten altid finde et eller andet! Den var original, jeg har aldrig før læst noget lignende, den var underholdende, sjov, trist, interessant … og den gav mig den dér følelse, du ved, når man læser en bog man bare kan mærke har noget specielt og man ikke har lyst til at lægge den fra sig. Det er en helt sikker 5-stjernet bog for mig. Hvis du kan lide en god historie og har mod på en alternativ fortælle-stil, så se at få fat en denne bog!
Wow! What an amazing read! It's not often I give a book 5 stars, but I felt after just a few pages that this book could be one of the few. I was completely mesmerized by it. One one hand, it's so simple and classic in its exploration of relationships between people, be it friendships, lovers, life partners, children… And yet, the time traveling aspect makes it so unique. I was a bit unsure what I thought about this aspect before I started the book, but I loved it right from the start! It kept twisting things and challenged the traditional way to read a story.
All the jumping around in time could easily have been confusing, but it wasn't, it was just so brilliantly conducted! The visits to the past made an almost ordinary story so much more original, fun and touching. Henry teaching his younger self to fend for himself cracked me up! Wouldn't we all love to travel back in time and give advice to a younger self?
The foreshadowing parts made it a somewhat scary read. I wanted Henry to close his eyes and not see anything. But then again, the scene at the museum (I won't spoil it for anyone by saying what happens) was so touching and utterly heart wrenching.
I don't have a single negative thing to say about this book – and I can almost always find something! It was original, I've never read anything like it before, it was entertaining, fun, sad, interesting … and to me, it just had that feeling, you know, when you're reading a book that's special and you don't want to let go of it. That smells like a definite 5 starred read! If you like a good story and are up for an alternative narration, then get your hands on a copy!
Follow me: Bloglovin * Facebook * Pinterest * Lookbook * Goodreads