Why the hell shouldn't I run away with the circus?
The one thing I dislike about audio books is that I don't have a physical book with a nice cover to show here on the blog. I googled a bit and found these beautiful covers of Water for Elephants: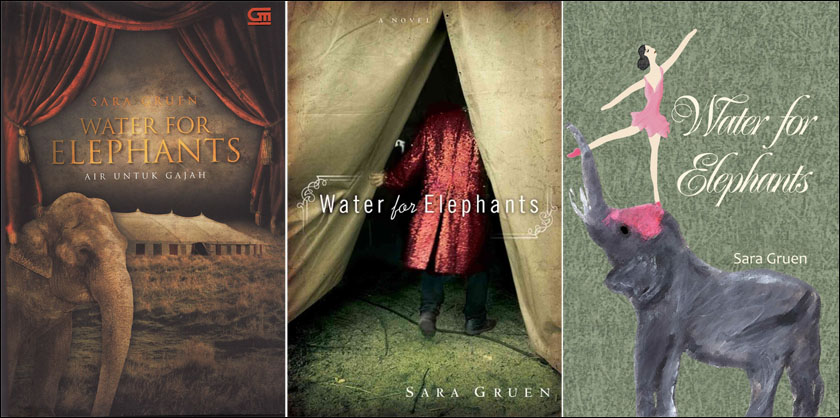 Title: Water for Elephants
Author: Sara Gruen
First Published: 2006
My Rating: 4 of 5 stars (average rating on Goodreads: 4:05)
I would recommend this book to: A reader in need of a good and easy story.
The Beginning: Only three people were left under the red and white awning of the grease joint: Grady, me, and the fry cook.
This was a really good story. It was well written, touching and entertaining. The perfect easy read – all I had to do was sit back and let myself be entertained. I listened to the audio, so I didn't even have to turn the pages. I chose the book because I needed a light and easy story. I got what I asked for – but with a touch of wit and beauty.
The story takes place in America during the Depression. Jacob Jankowski is left with nothing, runs away with a circus, and falls in love with a married woman. I know, it sounds like a story we've heard a trillion times before. What made the novel special was the writing and the narrator: Jacob himself tells us the story as 90 (or 93, he can't remember). This old man totally won my heart.
Another thing that made the novel special and memorable: it's very atmospheric. The setting reminded me a lot of the TV series Carnivàle – which is brilliant by the way! Here we also follow a circus during The Depression – but this one's much more dark and gloomy. Anyway, it kept popping into my mind as I listened to Water for Elephants, which perhaps had an effect on the experience.
The audio version (from Audible) was very good. There was some beautiful piano between parts to set the mood – I liked that a lot. There was two narrators: one for Jacob as an old man and one for Jacob as a young man. Especially the older man did really well – the younger one sometimes overdid it a bit.
I just adored how the story ended – so perfect. Now I really want to see the movie! Has anyone seen it? Is it any good? And is the story still told from the 90 year-old Jacob's point of view? Please share your wisdom!