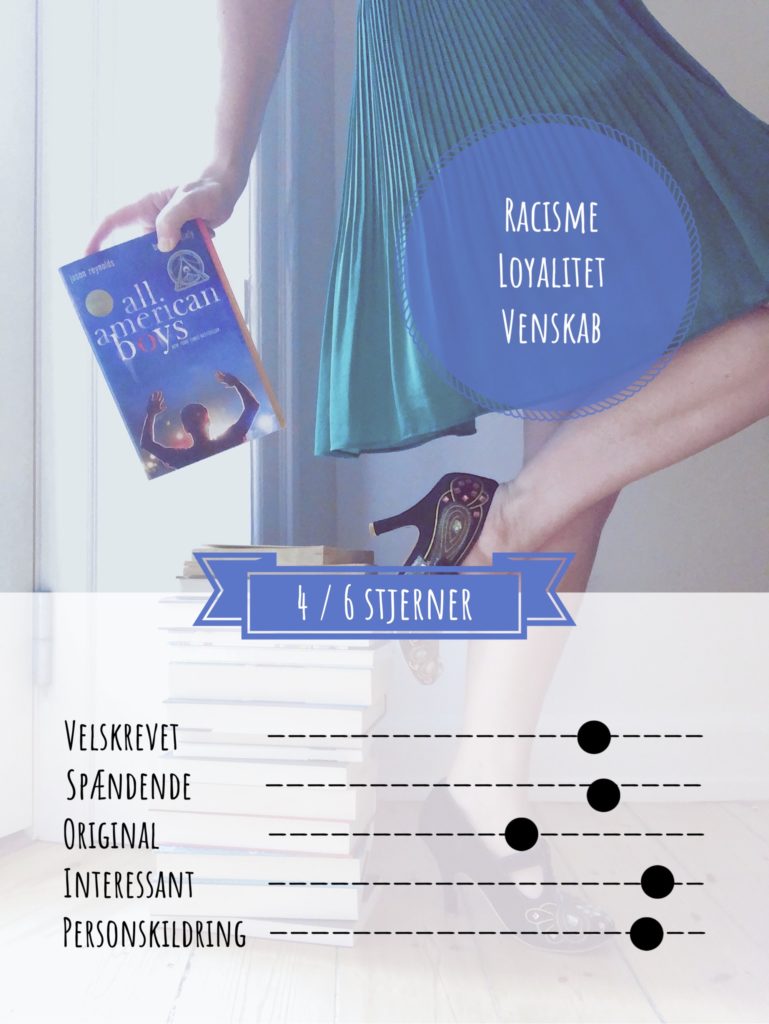 Titel: All American Boys
Forfatter: Jason Reynolds & Brendan Kiely
Sådan blev bogen min: Jeg købte den
I det lokale supermarked forveksles Rashad med en butikstyv og gennemtæves af en politibetjent. Quinn er vidne til det hele, men tør ikke stå frem, da politibetjenten er hans bedste vens bror, som altid har beskyttet ham.
All American Boys er blevet sammenlignet med Angie Thomas' The Hate U Give. Begge romaner handler nemlig om racisme, politivold mod sorte i USA og modet til at turde bruge sin stemme mod uretfærdighed. Jeg var vild med THUG og havde høje forventninger til AAB.
Jeg blev heldigvis ikke skuffet. AAB er rå, ægte og vigtig – ligesom THUG. I romanen er det skiftevis Rashad (offeret) og Quinn (vidnet) der er fortæller. Jeg foretrak Quinns afsnit i historien, da han står i dilemmaet: skal han bruge sin stemme mod den uretfærdighed og racisme han har været vidne til, eller tie for at beskytte den mand, der har været der for ham siden faderens død? Og hvad hvis hans kammerater vender ham ryggen?
AAB er en rigtig god og velskrevet roman, der tager vigtige temaet op. Den kunne godt have gået lidt mere i dybden med emnerne – og historien kunne snildt have været længere. En vigtig og anbefalelsesværdig bog.