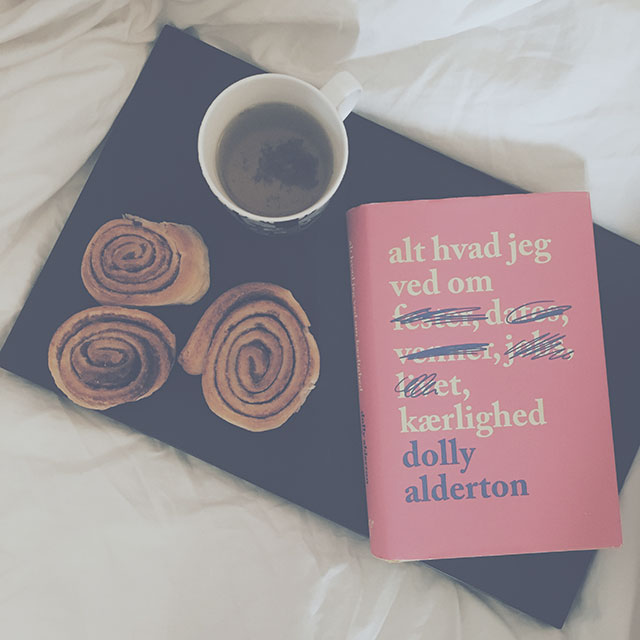 Titel: Alt hvad jeg ved om kærlighed
Forfatter: Dolly Alderton
Antal sider: 336
Sådan blev bogen min: anmeldereksemplar fra Hr. Ferdinand (en del af Politikens Forlag)
Kender du det, når det at åbne en bog føles som at få en ny bedste ven? Når I bare klikker ved første ord?
Sådan havde jeg det med Dolly Aldertons erindringer om sit liv i 20erne, om at lære sig selv at kende, at blive voksen. Hun tager os igennem venskaber, ensomhed, utallige dårlige dates, arbejdsløshed, spiseforstyrrelser, crappy lejligheder, karriere, lavt selvværd og drukture.
"… en kvinde kan aldrig rigtig blive tynd nok, det er problemet (…) For at være en almindeligt tiltrækkende ung mand skal du bare have et pænt smil, en gennemsnitlig kropstype (plus/minus nogle kilo), noget hår på hovedet og en okay sweater. For at være en begæringsværdig kvinde – dér sætter kun fantasien grænser."
Bogen handler om længslen efter at blive voksen, at livet skal starte for alvor, og sult efter kærlighed. Men mest af alt er den en varm og sprudlende hyldest til venskabet. Og så er den er hudløst og befriende ærlig og lige hvad jeg trængte til mens jeg lå i sengen med feber og ondt i halsen.
Jeg vil anbefale denne delikate sag til dig, der kan lide Ikke den slags pige, Sex & the City og Girls (hey, er jeg den eneste, der savner Girls?).