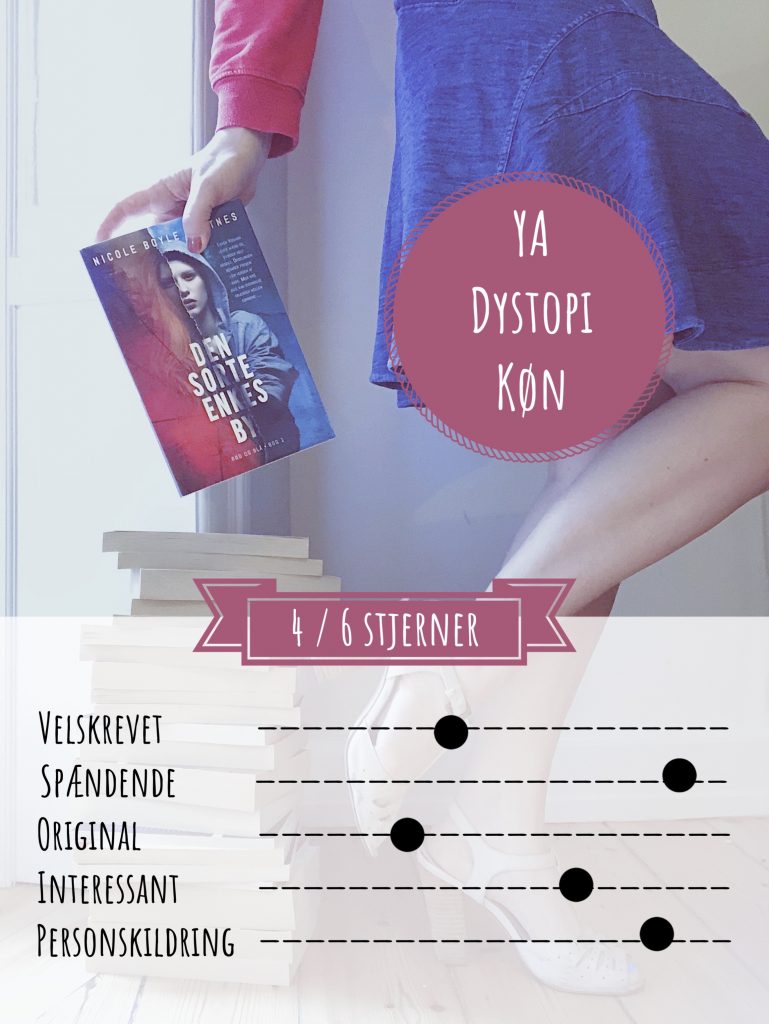 Spændende YA-dystopi inspireret af Handmaid's Tale
Titel: Den sorte enkes by (Rød og Blå 1)
Forfatter: Nicole Boyle Rødtnes
Sådan blev bogen min: Anmeldereksemplar fra Forlaget Avilda
I byen Viduana lever mænd og kvinder adskilt; byen er opdelt i røde og blå områder, at krydse dem er strengt forbudt. Forsøg på flugt fra byen straffes med døden. Vi følger Clara, der skal mødes med en mand for første gang i 'forplantningen', Silas der lever et brutalt liv på mændenes side, og Emma der bærer på en hemmelighed, der kan koste hende livet.
Den sorte enkes by er stærkt inspireret af Atwoods 'Handmaid's Tale'; her er rollerne dog byttet om: mænd lever som slaver og det er dem, og ikke kvinderne, der holdes nede under forplantningsritualet.
Det er uden tvivl en virkelig spændende bog; jeg var grebet lige fra starten og slugte bogen på få dage. Der var dog nogle ting ved bogens opbygning og tempo som generede mig …
Handlingen virkede forhastet til tider. Her er et eksempel: Hvis du lever i et samfund, hvor enhver form for forræderi straffes med døden, og du møder en person for første gang, så starter du næppe første sætning med at udtrykke frustration over reglerne, vel? Nej, man ser først vedkommende lidt an.
Det er en Young Adult bog, men den virkede mere young end adult for mig. Karaktererne er omkring 18 år, men jeg ville have skudt dem til at være omkring de 14-16 år. Det var ærgerligt, for det er ellers en virkelig spændende bog og en fascinerende verden Nicole har bygget op.
Og det er helt sikkert en trilogi jeg skal læse videre i! Og de næste to bøger kommer allerede i år, så det er pragtfuldt at have noget at glæde sig til. For på trods af ovenstående kritik, er det, som sagt, en virkelig spændende bog.