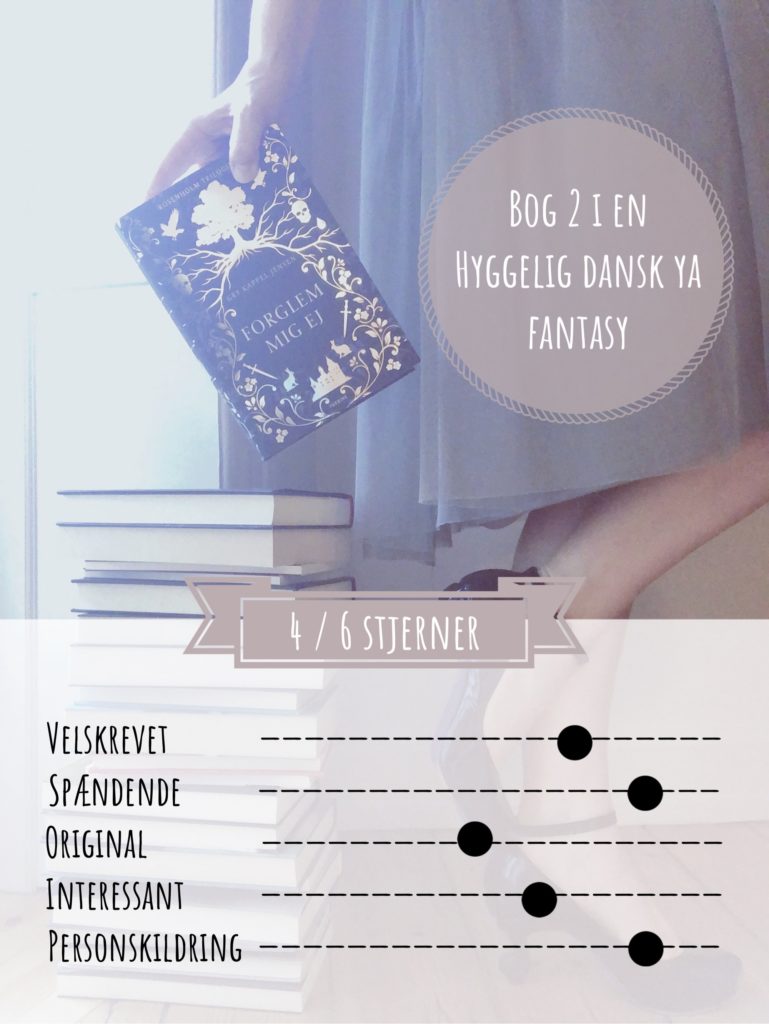 Titel: Forglem mig ej (Rosenholmtrilogien 2)
Forfatter: Gry Kappel Jensen
Sådan blev bogen min: anmeldereksemplar fra Turbine
Jeg har haft denne smukke sag stående på min tbr i ret lang tid fordi jeg havde lidt svært ved at huske, hvad 1'eren egentlig sluttede med. Men som de rosende anmeldelser poppede frem rundt omkring, voksede min lyst til at kaste mig over den. Jeg endte med at tage den med i sommerhus, og hold nu op, hvor var det en god beslutning: jeg hyggede mig virkelig med den og havde hele tiden lyst til at læse videre.
Her er lidt om handlingen:
De fire piger er tilbage på den magiske skole med noget af en deadline foran sig: de er nødt til at løse mysteriet de opdagede forrige semester – for det kan være farligt at bryde et løfte man har givet en ånd. Men fordomme, jalousi og hemmeligheder imellem veninder kan også være farlig …
Min vurdering:
Det der helt klart bærer bogen er (for mig) de fire piger, deres forskellighed og forholdene imellem hinanden: både venskaberne og jalousien er virkelig flot fremstillet, så det er gribende og interessant. Jeg er virkelig fan af dem og ville gerne vide endnu mere og have flere detaljer. Som en ekstra bonus var der i denne bog mere fokus på pigernes interesseområder og fremtidige karrierer inden for magi, hvilket jeg synes var helt vildt interessant.
Magien er. Den er ikke ond eller god. Den er bare. Det er det, vi bruger den til, som betyder noget.
Mysteriet var også spændende og holder læseren fanget hele vejen igennem. Personligt synes jeg dog, at mysteriet fyldte for meget; jeg ville have sat pris på nogle flere hverdagsagtige afsnit om pigernes liv på skole. Men det er måske bare min personlige smag.
En ting der ikke helt fungerede for mig, var bogens afslutning, hvor jeg sad tilbage med samme følelse som i 1'eren: en følelse af ikke helt at være med på, hvad der egentlig foregik. Helt specifikt drejer det sig om en ny person, der bliver introduceret her i bog 2, hvor jeg havde svært ved helt at fange personens motiver – og slutningen, der skulle binde de løse ender sammen, gjorde mig blot endnu mere forvirret.
Men alt i alt en rigtig god læseoplevelse – jeg ville ønske, at jeg kunne læse den næste bog nu!