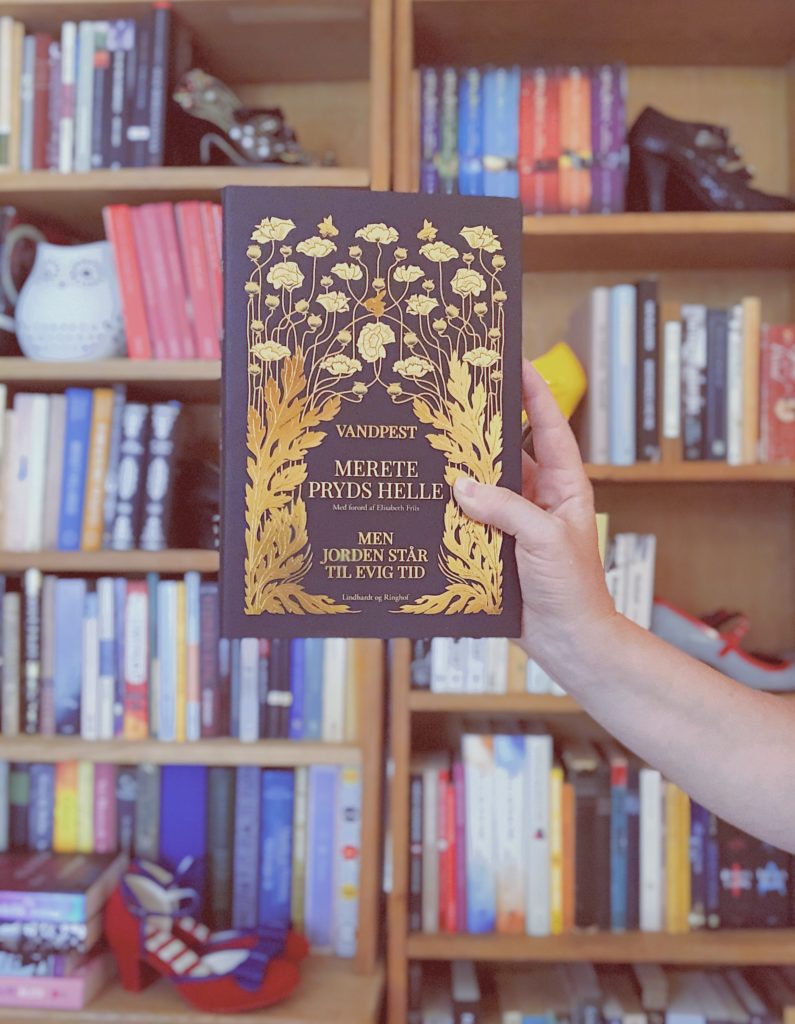 Reklame – sponsoreret af Lindhardt og Ringhof
I september skal vi i bogklubben læse Merete Pryds Helles (forfatter til Folkets skønhed og Vi kunne alt som vi tidligere har læst i bogklubben) debutroman, Vandpest, der netop er blevet genudgivet sammen med fortsættelsen Men jorden står til evig tid. Bogen er boget af det smukkeste jeg længe har set, og en af jer har mulighed for at vinde et eksemplar af skønheden.
Men først lidt om nyudgivelsen:
I Vandpest rejser vi med Beatrice og Malcolm ud på en forunderlig ballonfærd over truende landskaber i konstant forandring. Men Jorden står til evig tid er et portræt af parrets datter, Iris. Mens Beatrice hænger fast i sorgen over Malcolms død, finder Iris sin egen stemme. Tilsammen skriver de to bøger en verden frem, hvor naturen spiller en lige så vigtig rolle, som vores hovedpersoner, men bøgerne handler også om menneskers anlæg for, at omstille sig til forandringer af klima og levevilkår samt vores forunderlige evne til, at indrette os efter de ydre omstændigheder.
De to bøger udkommer nu i én samlet udgave og med forord af Elisabeth Friis. Med genudgivelsen af ungdomsværkerne Vandpest og Men Jorden står til evig tid møder vi en legende og eksperimenterende Pryds Helle, der klipper citater fra gamle naturvidenskabelige opslagsværker ind i sin tekst og lader byen, landskabet og englene få en stemme. Sådan føres vi ind i et drømmende univers, sitrende af nerve og nærvær.
Vind bogen
En af jer kan blive den heldige vinder af denne smukke nyudgivelse. Alt du skal gøre er at smide en kommentar nedenfor, så trækker jeg en vinder lørdag den 15. august.