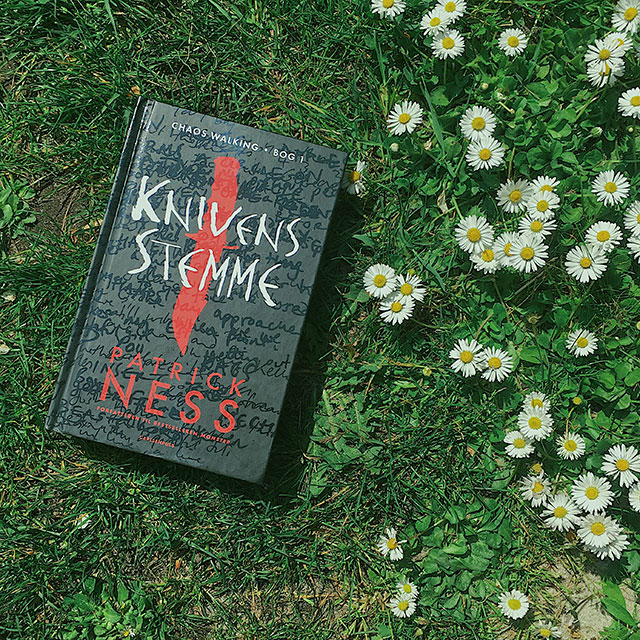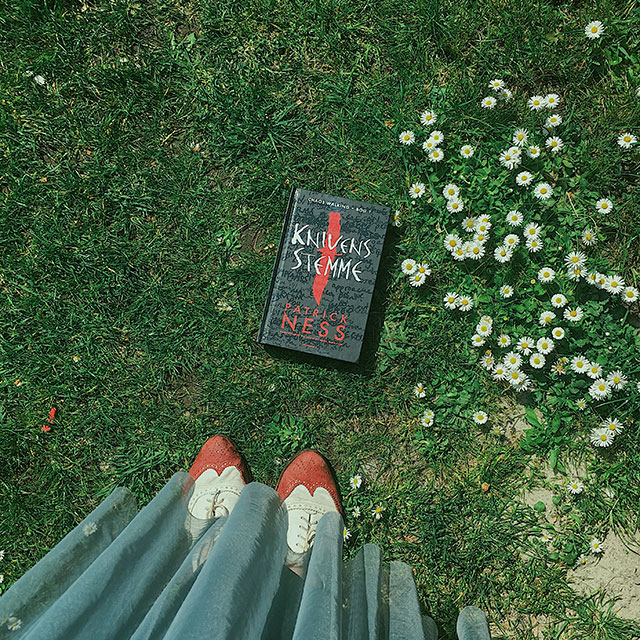 Titel: Knivens stemme (Chaos walking #1)
Forfatter: Patrick Ness (forfatter til More than this)
Sådan blev bogen min: Anmeldereksemplar fra CarlsenPuls
En af de bedste dystopiske romaner jeg længe har læst!
Endelig blev det min tur til at læse den første bog i den utrolig populære dystopiske ungdomsroman, der bliver filmatiseret lige om lidt (2020) med Mads Mikkelsen som skurk.
"Helt normale mænd ka osse forvandle sig til uhyrer …"
I Knivens stemme befinder vi os i Prentisstown, hvor der kun er mænd tilbage og alle kan høre hinandens tanker ("støj"). En dag opdager vores hovedperson, Todd, et sted, hvor der ikke er denne "støj". Langsomt begynder han at opdage sandheden om byen og det samfund han lever i.
Efter få sider, var jeg fuldstændig grebet af denne skønne bog. Jeg havde lyst til at læse i den hele tiden, og havde den med mig overalt. Jeg opfandt sågar læse-yoga, så jeg kunne holde mig længere vågen og læse videre. I shit you not.
Normalt er jeg ikke til actionfyldte bøger; faktisk synes jeg, at kamp- og jagtscener ofte er noget, der bare skal overstås. I Harry Potter kan jeg fx bedre lide beskrivelserne af hverdagen på skolen end opgør mod Voldemort He who must not be named. I Knivens stemme er der store mængder flugt og kamp, men det var så velskrevet og spændende, at jeg slugte det råt.
Knivens stemme er en dystopisk roman med afdæmpet sci-fi-elementer og en virkelig fin verdensopbygning: vi går ikke kolde i lange beskrivelser, men bygger verden gradvist op med små bidder viden som man suger begærligt til sig som en nybagt mor til sin første fredagsbar på kaffebar. På samme måde er karakterudviklingen også fremragende og troværdig.
Jeg har svært ved at finde noget negativt at sige. Jeg kan ikke få armene ned. Jeg nød denne bog og vil gerne have #2 og #3 lige nu og helst i går.