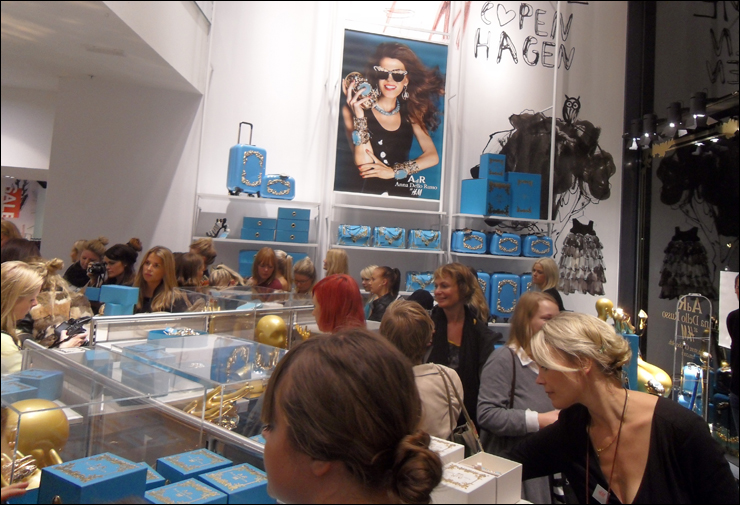 Så var det i går der var Anna Dello Russo shoppe-event i H&M. Var sgu lidt skuffet. Havde forventet og glædet mig til et rigtigt event. Med en lille tale, præsentation, velkomst eller bare et eller andet. I stedet stod vi i kø det meste af tiden. Kunne lige nå at få en sjat champagne i sig før vi blev stuvet ind til kollektionen, hvor vi stod som sild i en tønde og møvede rundt mellem varerne. Var en lettere stressende fornøjelse. Så ville jeg egentlig hellere have ventet til dagen efter, så man kunne kigge på varerne i ro og mag. Der var jo heller ikke rabat, og hvor vigtigt er det lige at få smykkerne dagen før? Og var der ikke noget med nogle goody-bags? Dem så jeg aldrig noget til …
Selve kollektionen har jeg det lidt ambivalent med. På den ene side synes jeg det er ret fedt med de lyseblå farver, det prangende guld og de overdrevne størrelser. Det er meget festligt og sjovt, men også en lille smule grimt. Have også haft mine betænkeligheder ved materialernes kvalitet, og med god ret. Der var en lile sportstaske som jeg havde på fornemmelsen ville falde fra hinanden efter bare en dag. Og det hele så bare en anelse tacky ud … Men stadig sjovt og festligt.
Men man må sige, at kollektionen var meget gennemført i sit look og det var fascinerende at se så mange varer med det samme genkendelige look samlet et sted. Det fik folk på gaden til at stoppe op og kigge ind – længe.
Last night was the night of the Anna Dello Russo shopping event in H&M. I must admit, I was a bit disappointed. I had expected and was looking forward to a real event. With a speech, presentation or just something. In stead, we stood in line most of the time. We got just a sip of champagne and were then stowed into the show room where we were packed like sardines in a tin while looking at the pieces. Was a bit stressful. I would actually have preferred to wait for the next day. It's not like there were any discounts or anything. And just how important is it to have the jewellery a day before everyone else? And wasn't there something about goody bags? I didn't see any goody bags …
I have mixed feelings about the collection itself. I think it's pretty cool with the light blue colors, the dashing gold and the extreme sizes. It's very festive and fun, but also a bit ugly. I also had my doubts about the quality of the materials. There was this bag that I think would fall to pieces after a few days. And it all just looked a bit tacky … But still fun and festive.
And I have to say the the collection was very consistent in its look and it was fascinating to see so many pieces with the same look. And it made people outside stop and stare through the window.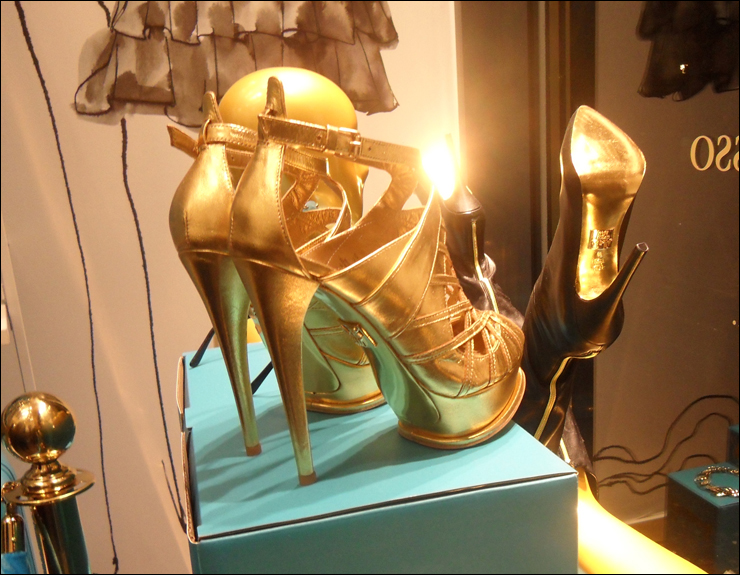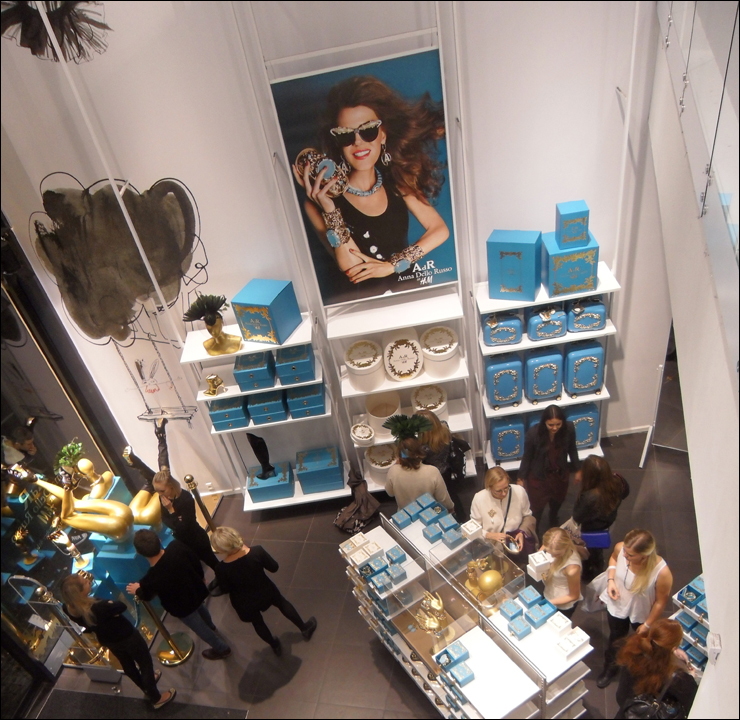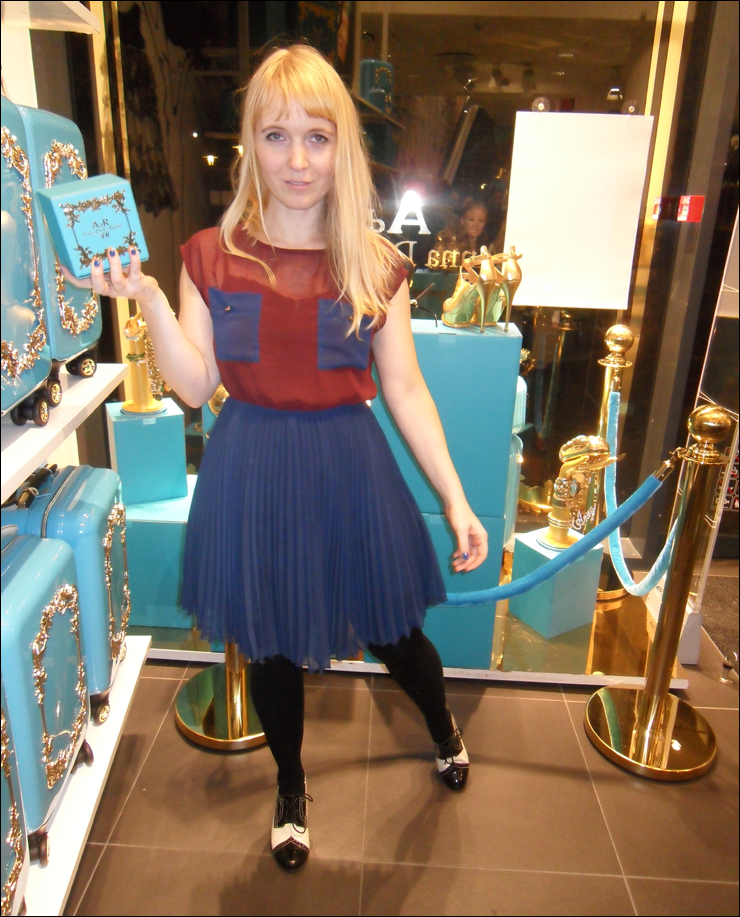 Mit Outfit:
Dress: Glamorous (from Rude)
Shoes: Elsie by Lola Ramona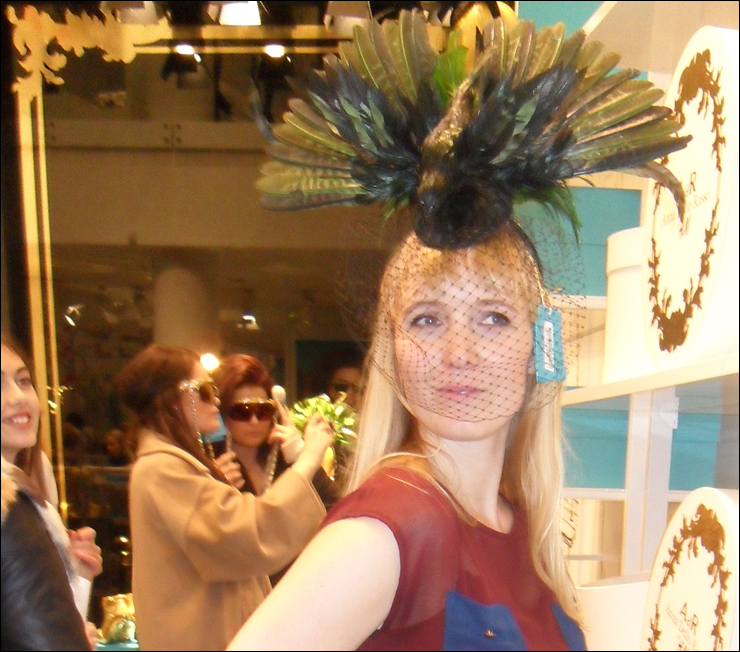 Cool hat. Men tror ikke jeg ville kunne nå at bruge den før mine katte splittede den ad. Og så kostede den 1.300 kr.
Cool hat. But I doubt I would find an occasion to wear it before my cats would tear it apart. And it's DKK 1,300.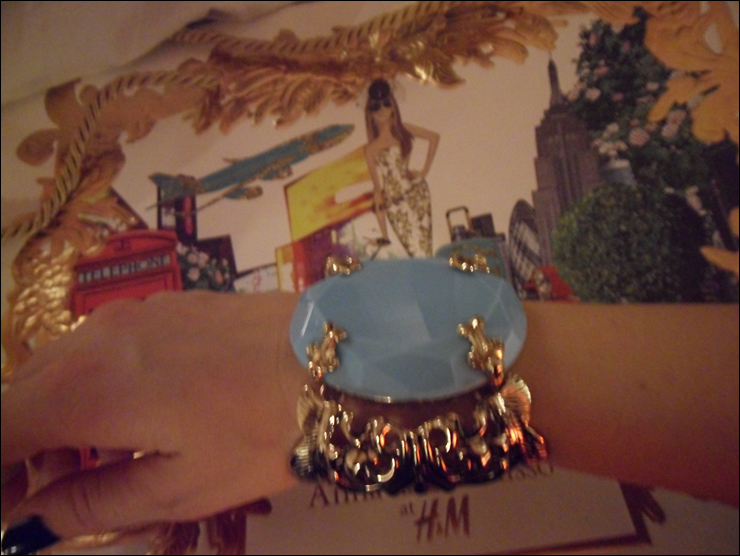 Jeg kunne ikke dy mig: måtte have dette armbånd, der nok så fint opsummerer kollektionens look: tacky og grimt men sjovt og en lille smule fedt. Jeg er faktisk ret glad for det, men har på fornemmelsen, at jeg hurtigt bliver træt af det. Og sådan tror jeg det er med hele kollektionen: det vil være So Last Year Next Year. "Hov, hvad snakker hun om" vil den kvikke læser undre sig. Det er skam et nyt koncept jeg roder lidt rundt med, som I meget snart kommer til at se her på Bookworm's Closet.
I couldn't help myself: I just had to have this bracelet, which neatly summarized the collection: tacky and ugly but also fun and a bit cool. I actually like it very much, but I have a feeling I'll get tired of it soon. And I think that's the way it is with the entire collection: It'll be So Last Year Next Year. "Hey, what's this she's talking about", the clever reader will wonder. Well, it's a new concept I'm toying with, and you'll get to see it very soon here at Bookworm's Closet.
Follow me: Bloglovin * Facebook * Pinterest * Lookbook * Goodreads