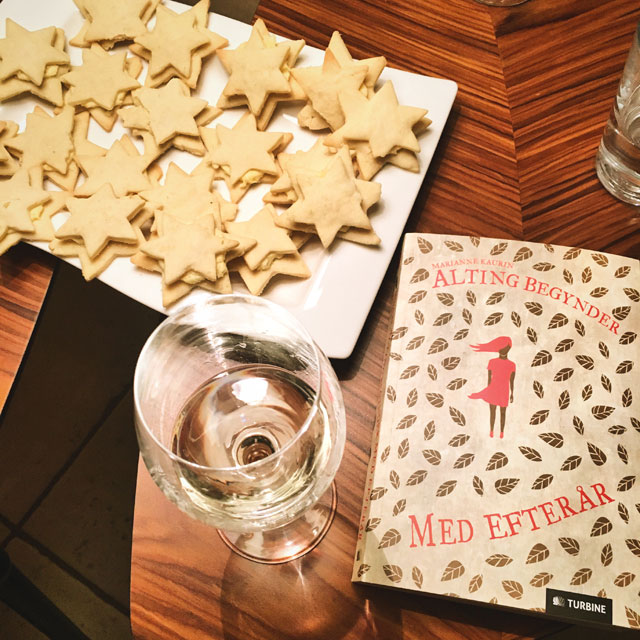 I december startede jeg en kollega en bogklub på vores arbejdsplads. Vi kalder den Sidevennerne (som i page-turners, der er gode venner). Det er en sjælden fornøjelse at være til selskab, hvor der stort set kun tales om bøger.
Vi mødtes i mandags for anden gang, drak hvidvin, indtog mad fra LêLê og talte om bøger. Vi havde alle læst den norske ungdomsroman 'Alting Begynder med Efterår', der foregår under 2. verdenskrig. Selvom bogen er fint skrevet, var vi alle lidt skuffede. Bogen stemmer ikke helt overens med det der står på bagsiden, og den var generelt meget overfladisk.
Derudover talte vi om andre bøger vi havde læst om 2. verdenskrig. 'Winter of the World' af Ken Follett blev fremhævet – en serie jeg må læse en dag! Jeg fremhævede Ursula Hegis 'Stones from the River' der handler om en dværg i nazi-tyskland, og 'The Book Thief', en roman om en pige, der bliver skilt fra sin familie under krigen, kommer til en fosterfamilie, og begynder at stjæle bøger.
Herefter spiste vi kage, talte om ungdomsbøger og nominerede tre bøger til næste bogklubsmøde. Et par af os besluttede at læse 'Den Kroniske Uskyld' som ekstra fælles læsning.